To promote OER practice in Africa, OER Africa nurtures relationships with higher education institutions and networks, offering them three complementary forms of support:
Policy engagement
The success and sustainability of OER relies on creating a supportive environment to integrate these resources into the processes of an institution or system. This is why OER Africa offers organizations practical assistance in creating appropriate policies, in areas such as intellectual property rights, materials development and appropriate use and support of information and communication technologies (ICT) for education.
An OER policy then becomes one of many strategies to improve educational quality and ensure cost-effective operations. The OER policy promulgated by the Kwame Nkrumah University of Science and Technology (KNUST) in Ghana, is an example of such a policy. This policy covers various aspects integral to making a success of OER, ranging from technical infrastructure and personnel skills to incentive and reward structures.
Development/adaptation of OER for education programmes and courses
OER can improve both the quality of education programmes and the management of delivery costs. Our experience in course design and materials development for distance education programmes allows us to help educators, as well as educational organisations, to meet their teaching and learning needs cost-effectively.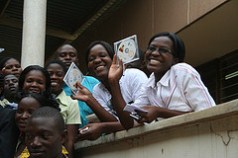 For example, we have supported the Bunda College of Agriculture - Malawi, in the development of an OER-based Communication Skills text book targeting first-year undergraduates, whereas prior to this intervention, neither faculty nor students had access to a single, high-quality common text.
OER Africa also engages in small proof-of concept pilots for single modules within a programme and processes aimed at producing comprehensive sets of OER for entire programmes. This was the case in our support to the Kamuzu College of Nursing, Malawi in the joint development of a CD-ROM providing evidence based information and materials to mid-wives seeking to upgrade their skills beyond diploma or degree level.
The AgShare Project involves Masters and PhD students in the co-development of relevant and open agriculture teaching, learning and research resources, based on their findings from participatory action research projects. Through this provision of relevant up-to-date OER, agriculture courses in African universities are enriched. An open licence means that these resources can also be re-used or modified for use by other stakeholders such as smallholder farmers involved in the agricultural value chain.
Support to collaborative networks
OER Africa increasingly provides support to regional educational networks, such as the Regional Universities Forum for Capacity Building in Africa (RUFORUM), and the African Council for Distance Education (ACDE) amongst others. The type of support depends on each network's need, but ranges from facilitating the design of collaborative projects, providing online tools for collaboration and sharing through the OER Africa website, or assisting networks with developing or enriching their own websites. In addition, based on needs expressed by the institutions with which it collaborates, OER Africa has facilitated the creation of two networks:

The African Health OER Network seeks to enable participants to develop, adapt, and share health education resources to augment limited human and other resources in the health sector and impact positively on overall health provision in Africa and beyond. The mission of the Network is to advance health education in Africa by using Open Educational Resources (OER) to share knowledge, address curriculum gaps, and support communities around health education. Our aim is to strengthen the intellectual and policy infrastructure within and between African institutions in order to grow a vibrant Network. Find out more.

In Teacher Education, OER Africa has built a committed and mutually rewarding relationship with TESSA, the Teacher Education in Sub-Saharan Africa project, culminating in the establishment, in 2010, of the African Teacher Education OER Network (ATEN). The goal of the African Teacher Education OER Network is to assist African teacher educators to inform and influence policy in their own institutions with regard to OER, and share expertise, experience and resources to improve teacher education in local contexts. Find out more.