AgShare II  focuses on universities in Ethiopia and Uganda, and aims to help institutionalise the AgShare methodology in these institutions.  With the addition of RUFORUM (Regional Universities Forum for Capacity Building in Agriculture) as a new partner, AgShare II is integrated with an extensive network with the potential to build upon the success of the pilot by disseminating results.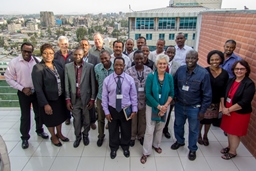 Agshare Team at 2015 Convening in Ethiopia
The project is being managed by Saide and is lead by Dr Ephraim Mhlanga. The institutional teams are as follows:
Haramaya University (Agricultural Economics- AE)
Haramaya University (Agricultural Information and Communication Management-AICM)
 
Makerere University (College of Computer and Information Systems- CoCIS)
 
Makerere University  (College of Veterinary Science, Animal resources and Biosecurity – COVAB)
 
Mekelle University (Integrated Water Resource Management)
Details of the team members are available to download here.
A deliverable of the project is for all institutions to put in place a policy on the integration of the Agshare Method into Postgraduate Programmes and Haramaya University College of Agricultural Science's and Mekelle University College of Dryland Agriculture and Natural Resource's policies are both available by way of example.