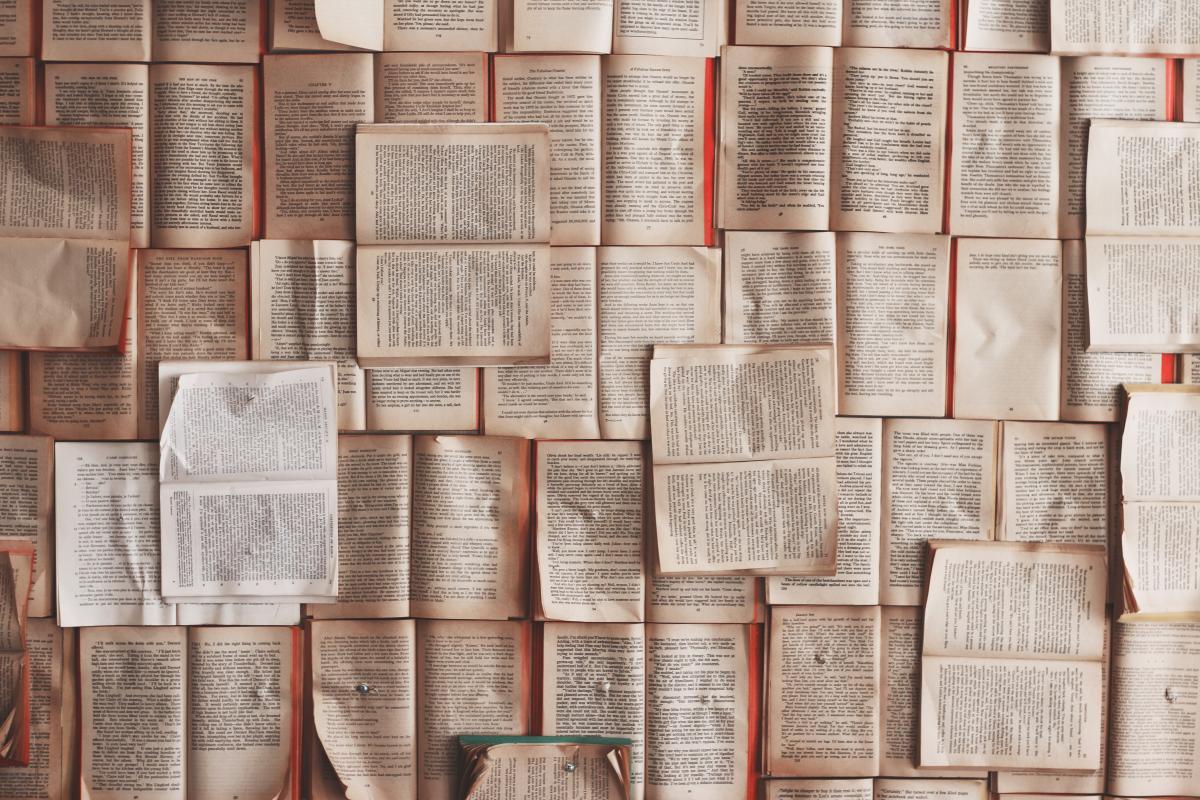 Photo courtesy of Patrick Tomasso, Unsplash
This week, we focus on publishing in high-quality Open Access (OA) journals, with an emphasis on African journals. Open licensing allows for distribution of research literature, primarily online, without cost to the reader. Most OA materials use Creative Commons licences, which lay out the terms under which they can be used and distributed. Many OA journals employ a particular Creative Commons Licence, CC BY, which permits distribution, copying, and adaptation without requesting permission. Full attribution is always required, however.
Traditional journals typically meet their costs through subscriptions and selling advertising space, with some charging authors. OA journals usually charge authors a fee, called an Author Processing Charge (APC). The business model thus switches from one in which the subscriber or the advertiser pays the costs to one in which the author must pay. There is also a third mechanism called hybrid publishing. Funders increasingly require their grantees to publish using open access licences. If they publish with traditional journals, because of these donor requirements, these journals permit authors to select a Creative Commons licence for their accepted submissions, but charge a fee for doing so. In addition, some traditional publishers now produce fully OA journals. SHERPA/RoMEO, which is hosted by the University of Nottingham in the UK, maintains a database with information on publisher copyright restrictions and permissions. Note author rights and general conditions, see Figure 1 below.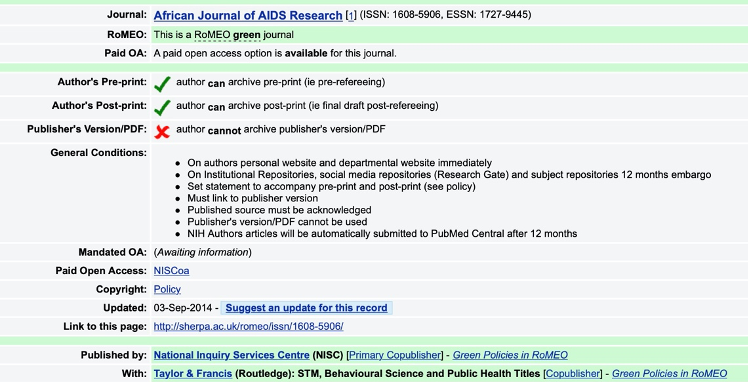 Figure 1: SHERPA/RoMEO entry for African Journal of AIDS Research

There are two major platforms where you can search for journals. One is the Directory of Open Access Journals (DOAJ); the other is through African Journals Online (AJOL).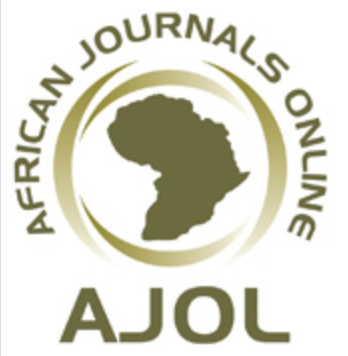 AJOL hosts 526 journals, 264 of which are OA. On a national level, the University of Addis Ababa Libraries hosts Ethiopian Journals Online, a repository of 27 Ethiopian OA journals. The Academy of Science of South Africa also maintains Scientific Electronic Library Online (SciELO) SA, which includes a selected collection of peer-reviewed OA South African scholarly journals and forms an integral part of the SciELO Brazil project.
Publishing research in African journals is significant for several reasons. It can give African scientists better global recognition. All too often African research is not accepted in traditional journals because it is not deemed a priority in Western journals or is considered too applied. African journals fill that gap; their peer review is comparable to their North American or European peers; and they are indexed by the same indexing and abstracting services. In addition, African OA journals charge lower Author Processing Charges or absorb costs in other ways. Moreover, the number of high-quality African OA journals continues to grow.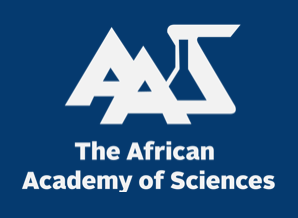 The COVID-19 pandemic demonstrates how well African publishers can speedily disseminate research particularly pertinent to Africa. As an example, the African Academy of Sciences (AAS), which produces AAS Open Research, has a webpage on research and funding opportunities specific to Africa. It also maintains a COVID-19 collection with articles that have been peer reviewed and those that are awaiting peer review. This is an important mechanism to ensure that time-sensitive research becomes immediately available.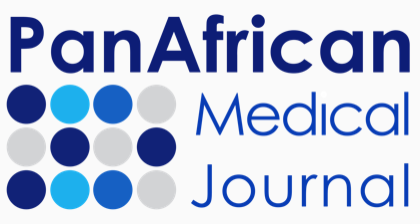 Equally timely, the Pan-African Medical Journal has published a special issue on COVID-19 in Africa. The research articles, essays, and commentaries in this issue are specifically relevant to the continent, for example, on the coronavirus in Nigeria, Morocco, conflict-affected areas of Cameroon, and migrant communities in Sub-Saharan Africa.
The African Population and Health Research Center (APHRC) has started to publish weekly COVID-19 situation reports written by researchers associated with APHRC. They cover topics not usually included in traditional publications, for example supporting communities living in urban informal settlements to protect themselves from COVID-19. Although APHRC's core business is to conceptualize, implement, and publish long-term evidence-based research, the Centre believes that information on the coronavirus pandemic is so urgent that it decided to publish these weekly briefs focusing on Africa.
Resources on Open Access
OER Africa's open knowledge primer provides background on basic concepts and their pertinence to African researchers. OER Africa has also created a Learning Pathway (LP) on publishing using open access, which defines terms and will help you acquire the skills necessary to publish or advise on publishing research using OA. Both the primer and the LP will enable you to understand how to identify and select peer-reviewed OA journals that meet international standards. Both provide information on how to evaluate open access journals, an important consideration because some OA publishers use deceptive practices.
Our upcoming post on 25 June 2020 will address the significance of open data as a part of OA publishing.
_________________________
Click on the links below to access other articles in this series.
What's New
Open Education has the potential to make education more accessible, enable the creation of relevant teaching and learning materials, improve the quality of content, and empower learners to be critical thinkers and knowledge creators. Open Education Week (OE Week), held annually, is an opportunity for actively sharing and learning about the latest achievements in Open Education worldwide.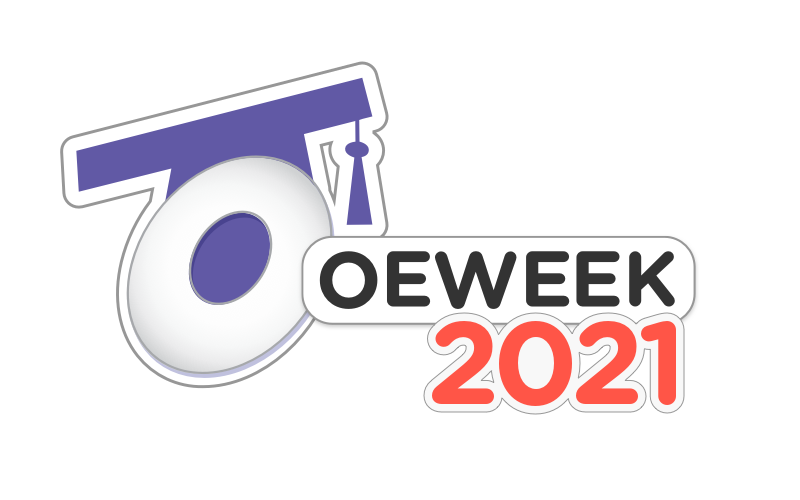 Open Education has the potential to make education more accessible, enable the creation of relevant teaching and learning materials, improve the quality of content, and empower learners to be critical thinkers and knowledge creators. Open Education Week (OE Week), held annually, is an opportunity for actively sharing and learning about the latest achievements in Open Education worldwide. OE Week provides practitioners, educators, and students with an opportunity to gain a greater understanding of open educational practices and be inspired by the OE community. OE Week will be held from 1-5 March 2021.
The term 'Open Education' is often used when discussing open educational resources (OER). However the term more broadly refers to a commitment to remove unnecessary barriers to access learning while seeking to ensure high quality educational experiences that will enable success both during and after studies. This commitment includes developing policies and practices of openness in entry requirements (with minimal or no restriction on qualifications), choice of courses, place of study and time, and so on. An open education approach can inform practice in face-to-face education, distance education, and online and blended learning.[1]
Open Education incorporates the key principle of learner-centredness. The learner should be the focus of the educational process and should be regarded as an active participant in an interactive engagement. Cognisance needs to be taken of the learner context, building on their experience wherever possible. Open Education should encourage independent and critical thinking. This is facilitated by regarding the learner as an active participant in the educational process and can be further enhanced by offering learners choices, possibilities, and contesting viewpoints within that process. Teaching independent and critical thinking empowers learners to be able to interact confidently and effectively within society.
Click 
here
 to learn more about Open practices, trends and opportunities in higher education in Africa.
Lifelong learning is central to openness. Learning should continue throughout life, rather than being limited to childhood and teenage years, and should be of direct relevance to the needs and life experience of learners. The concept of lifelong learning implies an acknowledgement of the reality that learning is a process in which all people are inevitably involved from birth until death and a consequent attempt to make structured educational opportunities available to people throughout their lives.
Education has become far more accessible to more people through the innovations introduced by Information and Communication Technology (ICT). While ICT has created many new possibilities for reaching learners, it also creates new barriers to access for many. Although online learning can accommodate different ways and styles of learning (making for greater accessibility) and enable the construction of a richer learning environment, all learners potentially face barriers to learning. These barriers may include the high cost of Internet access and technology, technical constraints in the use of technology, a shortage of appropriate resources (in the local language or context), or content that is not designed to be accessible to learners with disabilities.
Harnessing technology and online learning methods can provide access to education for those in remote areas, for the socially disadvantaged, and for the marginalised. If carefully implemented, Open Education can play a potentially important role in achieving the Sustainable Development Goals (SDGs) and enabling lifelong learning. Of course, effective learning design is critical and recognises that people learn differently and require learning resources that are related to their needs and circumstances.
The 
FLOE Handbook
 can guide teachers and content creators to develop more inclusive and accessible educational resources.
An important element of openness is licensing. Legal frameworks such as Creative Commons help to govern how open a resource is. These licences provide mechanisms to ensure that authors of materials can retain acknowledgement for their work while allowing it to be shared, can restrict commercial activity, and can aim to prevent people from adapting it if they so wish. Open licensing creates possibilities for teachers and learners to access teaching and learning materials that they may not otherwise have been able to access. While e-books for the academic market are becoming more widely available, especially since the COVID-19 pandemic, unaffordable prices, an inability to buy e-books due to a refusal to sell or bundling of titles in packages, and restrictions on research copying are affecting coursework and research in universities. In the UK, libraries say they have struggled with high e-book prices and lack of availability for years, but this situation is now critical because students urgently need digital resources during the pandemic. Follow the hashtag #eBookSOS for more.
Using and creating OER encourages collaboration, so educators are able to share teaching practices and benefit from the ideas of others. Effective OER practices have the potential to improve the quality and reduce the costs of educational materials. This opens the possibility of making previously expensive materials affordably accessible to many. This is one potential solution to the challenges facing learners and teachers in Africa and across the world.
The Commonwealth of Learning (COL) has created 
guidelines and a resource list
 for institutions to keep the doors of learning open during the COIVID-19 pandemic.
The fundamental principles underlying OER are the freedom to share knowledge and that the knowledge should be legally, socially, and technologically open. OER promote the creation and adaptation of content for different contexts. This is particularly important in Africa as it is the least visible continent online, despite accommodating a population of over a billion people. Content used in Africa is not always created by Africans. By using OER, learners and teachers in Africa are able to find, adapt, and create open content that is tailored to their needs, inclusive, and reflects the local context.
OER Africa has developed a series of 
learning pathways
 for university academic staff that will enable them to improve their teaching and learning capacity using OER.
If you are interested in engaging in Open Education practices and networking with colleagues, there are a few ways to participate in OE Week. You can host an event, share OER, or attend activities hosted by others. For more information click here. 
Remember all the resources on the OER Africa website are free to use and share. Let us know what you are doing to celebrate OE Week. Tag @OERAfrica in your social media posts and use #OEWeek. 
---
Are you looking to interact with people who are interested in Open Education Resources (OER)? Do you have ideas that you want to share with a wider audience and learn more about OER? A Community of Practice (CoP) might be the right place for you.
The term 'Community of Practice' was created by Etienne Wenger, who offers a social theory of learning – a school of thought that proposes that humans can acquire new ideas and behaviours by observing others.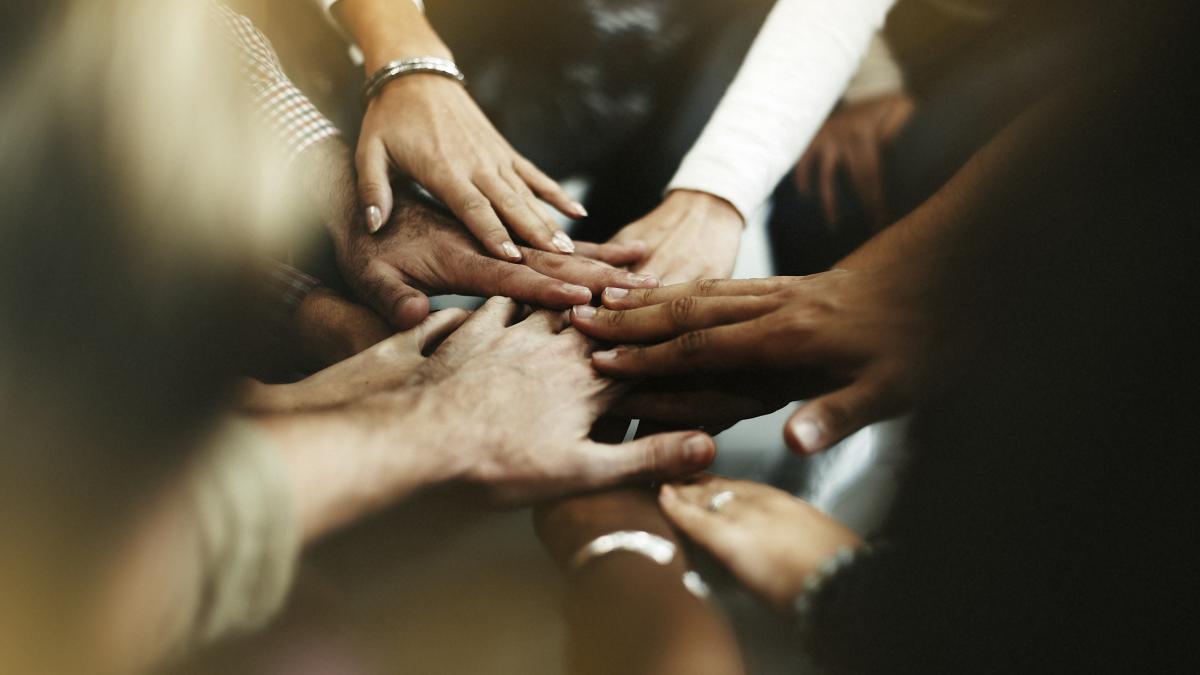 Image courtesy of rawpixel.com via Freepik
What is a Community of Practice?
Are you looking to interact with people who are interested in Open Education Resources (OER)? Do you have ideas that you want to share with a wider audience and learn more about OER?  A Community of Practice (CoP) might be the right place for you.
The term 'Community of Practice' was created by Etienne Wenger, who offers a social theory of learning – a school of thought that proposes that humans can acquire new ideas and behaviours by observing others. The term has been used in various ways, and usually refers to informal networks that support people to develop shared meaning and engage in knowledge building.[1] A CoP is a group of individuals who share a domain of interest, which they use as a basis for interaction. Members of a CoP for OER might share resources, experiences, problems and solutions, tools, and methodologies. This results in members gaining knowledge from one another and, by extension, contributes to the development of knowledge within the domain of OER and the field of Open Educational Practices (OEPs) more broadly.[2]
A CoP is a great way to conduct advocacy and gain momentum for OER at your institution, within your organisation, or in your social circle. Some CoPs may involve projects like developing an OER strategy or distributing OER grants at an institution, while others may simply be aimed at knowledge sharing.
OER Africa published a report on CoPs, which is accessible here. Parts of this article are based on the report.
According to the report, CoPs have several defining characteristics, as illustrated in the graphic below.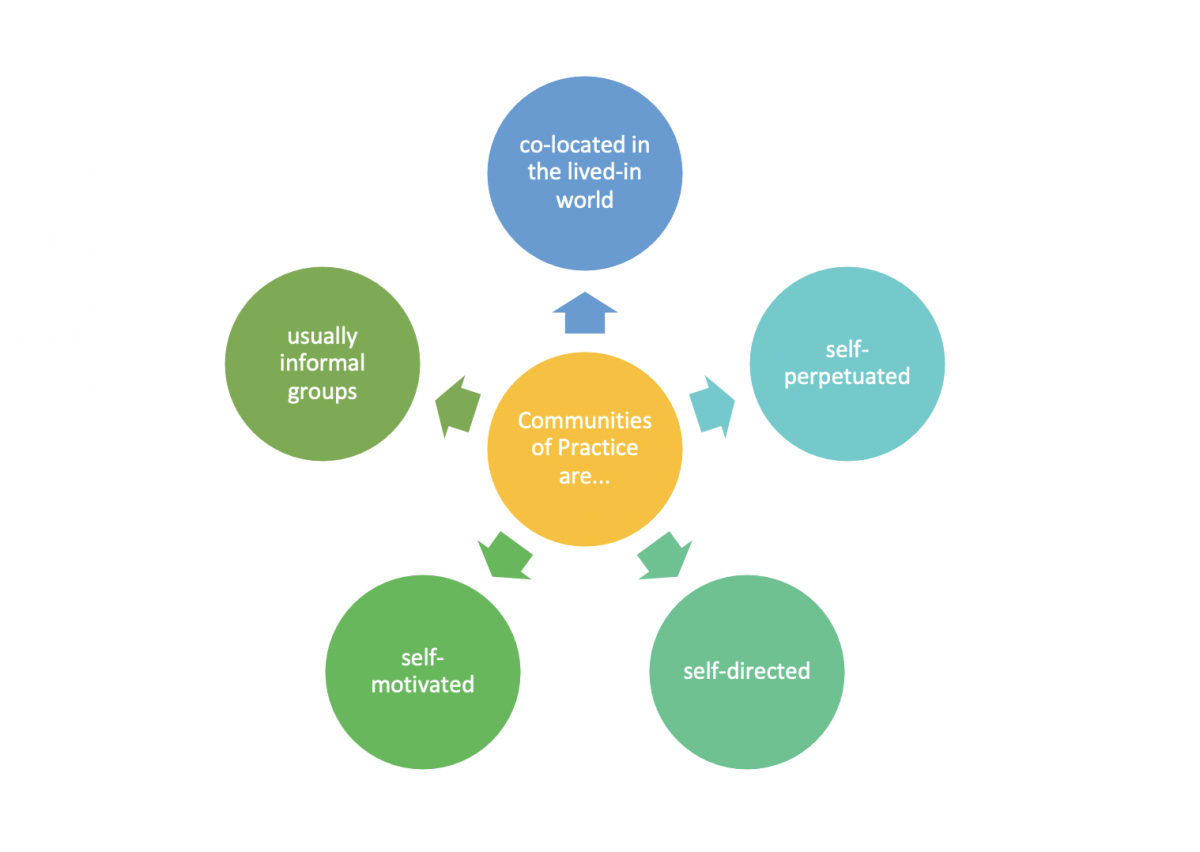 Source: Hoosen, S. (2009). Communities of Practice: A research paper prepared by OER Africa
Important to note is that CoPs can take different forms and they vary across different dimensions; for example, they can be small and tight knit or large and loosely connected. The concept of virtual CoPs has gained increasing popularity as technology and the Internet open opportunities for faster and alternative means of communication with people who are geographically far away from each other. They have also become a very practical means of interacting with people who are interested in a particular subject field since the outbreak of the COVID-19 pandemic and the restrictions it has created on face-to-face interaction and travel.
You can access more resources on CoPs here.
How do I set up a CoP for OER?
The success of a CoP ultimately depends on preparation and involves consideration of a number of key aspects. 
Identify the scope and focus of the CoP for OER: Answer the following questions such as 'What is the value proposition of the CoP?' and 'What will its scope be?'
Build a case for action: Consider the purpose of the CoP and outline key deliverables over the next one to two years, as well as how the CoP will contribute to the OER movement. Think about how the CoP will satisfy members' expectations.
Identify a CoP facilitator: Since relationships are central to one's sense of community, a facilitator is central to creating and maintaining a robust CoP. The facilitator should have sufficient time available to dedicate to the CoP and should be motivated, creative, and knowledgeable about OER. The facilitator will be responsible for organising meetings, maintaining and distributing knowledge resources, and monitoring the effectiveness of the CoP.
Identify potential members and criteria for membership: Consider who the best people are to be part of the CoP. It might be useful to think about how to introduce diversity into the group through broad membership, so that there are wide-ranging perspectives. Depending on the scope of the CoP, you might consider approaching anyone from OER practitioners and advocates to librarians and institutional management.
Highlight the benefits of joining the CoP to potential members: Benefits include faster solutions, reducing duplication of efforts, and enabling people to develop and share new ideas or strategies around OER promotion.
Identify potential knowledge to share: Get community members to identify knowledge that would be useful to share.
Decide on an initial technology platform: The platform/s should enable the group to communicate effectively and store resources. They should be easily accessible to all members.
Consider how the CoP will be governed: Establish clear rules for decision-making and accountability, as well as what resources are available, what the key milestones or deadlines are, and who the stakeholders are, to name a few.
Once you have done the background preparation, you can start planning the official launch of your CoP. At the launch, it is good practice to develop a community charter. Thereafter, the CoP should determine the roles and responsibilities of community members, initiate events and spaces (such as meetings or OER advocacy activities), build a core group to drive the CoP, and find and share knowledge. Once you have passed the initial phase, here are some tips on ensuring that your CoP is effective and sustainable.
How do I find people who are interested in OER?
Struggling to find people who are interested in your preferred subject area? Here are some options for you to consider:
Reach out to your network: It can be surprising how you might share a common interest in OER with people in your network – even if you haven't discussed it with them before. They might even be able to put you in contact with someone they know who is interested in OER or looking to gain knowledge.
Search on LinkedIn: One of the benefits of LinkedIn is that you can search for keywords and come across thought leaders, organisations, different stakeholders, or people with a general interest in OER. You can strike up a conversation by sending a message on LinkedIn.
Do your research: Use a search engine to look for resources and websites with information about OER. Find out who is producing this knowledge and approach them to gauge their interest in being a CoP member. 
Access the links below to see some CoPs for OER, and OEPs more broadly, in action:
Ultimately, developing a CoP for OER is a wonderful way of learning, sharing knowledge, and advocating for OER use. As long as you maintain a clear sense of the scope of your CoP and ensure that all of the CoP's activities contribute to its case for action, it can make a valuable contribution to the OER movement.
---
For more articles in this series, click on the links below.
Most research is only seen by a small number of specialists. Would you like to share your research with those who can use it directly? They can be teachers, policy makers, other stakeholders, or the media. In this post, we explore how you can make your work accessible to a wider audience and release it under an open licence.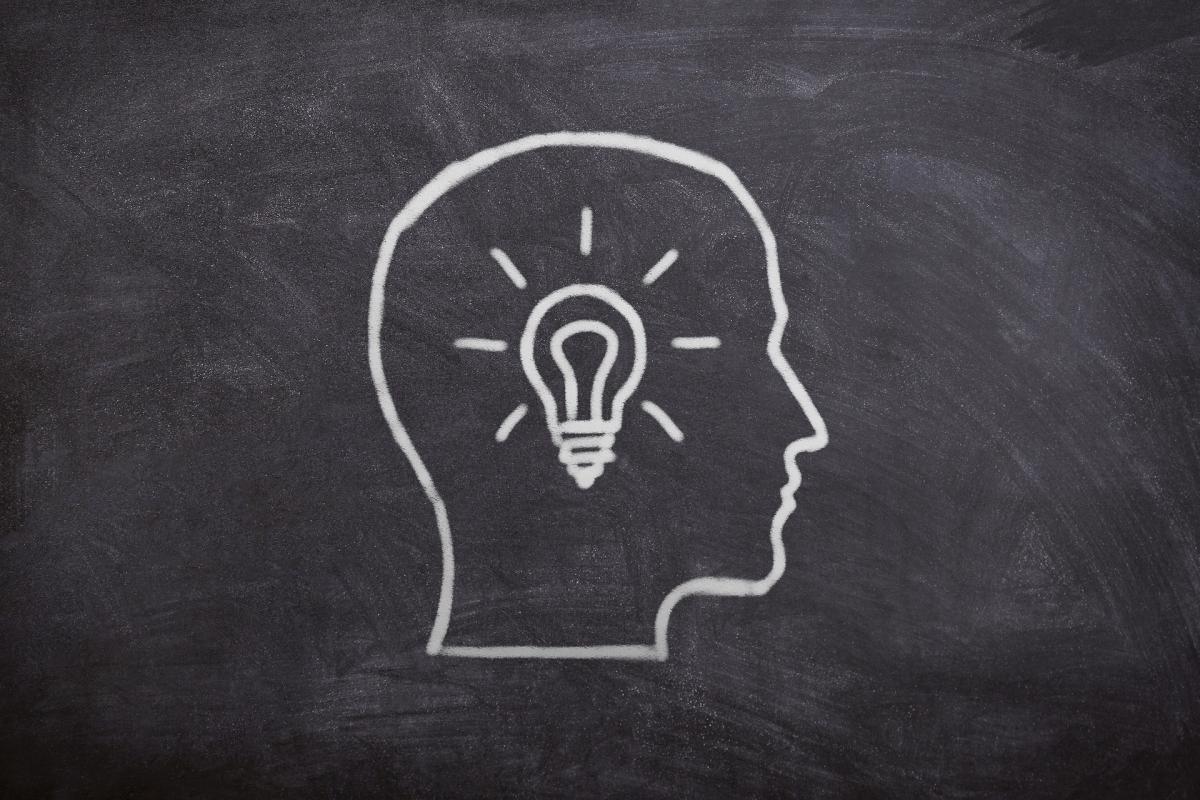 Image courtesy of Pixabay
Most research is only seen by a small number of specialists. Would you like to share your research with those who can use it directly? They can be teachers, policy makers, other stakeholders, or the media.  OER Africa has created a practical guide to communicating your research findings to a wider audience. In this post, we explore how you can make your work accessible to a wider audience and release it under an open licence.
  
The need to share scholarship openly
Most academics think that their research is important. Although they publish it in journals for others to read and build on, the reality is that academic journals are aimed at a specialised audience. Journal publication is important, but not necessarily sufficient. If you can find different ways to make your findings available, your research might be of value to a much wider variety of people, including local communities, who could use it to improve their lives, and policy makers, for whom it might provide useful evidence to inform their decisions. You could also help to generate trust in researchers, encourage public participation in important issues, and improve your own communication skills in the process. Professor Jerry John Nutor believes that: 
Research is meant to benefit society by raising public awareness and creating products and innovations that  enhance development. For research to serve its full purpose, the results must leave the confines of  research laboratories and academic journals.
If you find Nutor's argument compelling, why not think about ways to make your research available and accessible beyond journal publication? In addition, when communicating your research, applying an open licence helps others to disseminate it further, without the need for permission from you.
Becoming a communicator of your research
Most research can and should be communicated to audiences beyond academia. One area of research communication which is developing into a field in its own right is that of science communication, and all researchers can learn from some of the methods that science communicators use to disseminate their research. SciDev.netexplains why accurately and clearly communicating science during the COVID-19 pandemic is essential. 
 
Here are some suggestions to consider: 
Identify the potential audiences for your research and the formats that they are likely to find most accessible. Producing a pamphlet for teachers to use in the classroom would look very different from making a short video for farmers to try out a new technique. Once you have identified your audience, you can plan how best to summarise your findings for them.
Decide on your key message/s. You are not writing a research paper; you need to decide what you want to tell your audience, and ensure that the message gets across to them early on in your communication. Using a message template can help you; tell your audience:
Here's what we know.
Here's what's new.
Here's why it matters.
Use plain language to write your blog, pamphlet, or other communication. Your audience will not want to read jargon or academic writing; it will want to understand your research quickly and easily. Good advice about writing in plain language can be found here.
Apply an open licence to the new communication you have developed to make it easier for others to share and use. The advantages and types of Creative Commons open licences are explained here.
Depending on your audience, you may want to translate your new communication into another language.
Decide where to disseminate the communication you have developed.
Where can you publish your communication?
It is best to start with familiar, local possibilities. These might include a website or newsletter of your own research group, department, or faculty. You could also contact NGOs or local community organisations related to your research to see if they would like to publish your piece. Your institution may have a communications department with which you could work to write a press release or similar.  You can also approach your radio stations or newspapers, particularly those that broadcast or publish in local languages that reach a broad audience.
 
Further afield, there is no one-stop-shop for finding examples of good research communication, but the following sites provide examples of research transformed for non-academic audiences. They are all openly licenced or have an option to publish with a Creative Commons licence. For these sites, you will need to learn how to pitch a story to the editors (i.e. 'sell your story idea') before you write it. For any of these, you can also publicise your piece using social media. 
In summary, developing the skills of sharing your research more widely than traditional academia is well worth pursuing: it gets you more widely known as a researcher, while also enabling your findings to be used by practitioners, educators, and the general public.
  
With thanks to Dr Marina Joubert (Stellenbosch University) for advice on dissemination.
---
For more articles in this series, click on the links below.