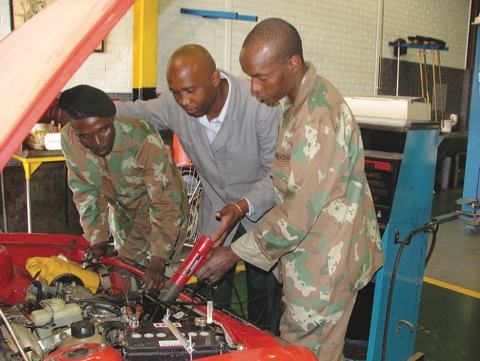 The South African National Advanced Diploma in Technical and Vocational Teaching (Adv Dip TVT) is the product of an initiative of the South African National Department of Higher Education and Training (DHET) in association with the University of Free State and Saide who was responsible for the design and the development of the course Modules. This project would not have been possible without the financial support of the European Union. The Advanced Diploma in Technical and Vocational Teaching programme seeks to provide a structured professional learning pathway for current and aspirant technical and vocational lecturers/teachers. The Advanced Diploma will equip them with the knowledge and competences to implement and manage teaching and learning in their TVET colleges effectively and in alignment with national goals. The overall purpose of the Advanced Diploma is to engage lecturers working in the TVET sector in conversations about what it means to be a quality teacher in a TVET college. Each Module in the programme explores this from a different angle, but for every module the foundational concept is about the type of teacher you want to be. Currently, eight modules have been produced, and a further seven modules are in development. The modules are not intended to comprise a full course, but are instead made available for higher education institutions to select and use as needed. Alternatively, colleges might use them for professional development purposes.
The following modules are available (which are accessible here):
ADTVT Module: Collaboration in Teaching and Learning
This module aims to enable the TVET lecturer to engage collaboratively and maturely in building relationships with peers, business, industry, and students through the facilitation of a range of communities of practice, and to develop a co-operative learning environment designed to enhance knowledge development, teaching, and professionalism.
ADTVT Module: Reflective Practice
This module is designed to assist both those who are new to reflective practice and those who work with it regularly to develop a toolkit of reflective practices that promote the development of expertise, professional judgement and wisdom in teaching, industry and personal life.
ADTVT Module: Psychology of Education for TVET
This module is on the learning that takes place when we learn a technical craft or vocation. It is about the knowledge and skills that we expect our TVET students to acquire in the course of their studies at a TVET college.
ADTVT Module: Managing the Vocational Classroom
This module aims to enable the TVET lecturer to develop knowledge, skills, values and attitudes which promote an effective and proactive approach to classroom management.
ADTVT Module: Being a TVET lecturer
This module aims to provide the TVET lecturer with an overview of what is expected of a professional educator in technical and vocational education and training.
ADTVT Module: Rethinking TVET Assessment
This module is designed to support TVET lecturers in designing professional assessments of and for learning that will enable them to assess their students effectively, efficiently and fairly.
ADTVT Module: From Interpreting Curriculum to Lesson Planning
This module aims to enable the TVET lecturer to engage with the official curriculum and mediate that curriculum in the process of designing actual lesson plans for students. The module has been designed to complement the Adv. Dip TVT module Vocational Pedagogy.
ADTVT Module: Vocational Pedagogy
The purpose of this module is to develop the student's expertise in working with the theoretical principles of good pedagogy and the broad range of pedagogical options available to them; to enable the student to craft pedagogies that achieve the aims of the Technical and Vocational Education and Training curriculum and TVET stakeholders across different TVET subjects, contexts and challenges.
The Curriculum Framework for Industry/ Workplace-Based Work-Integrated Learning for Qualifications for Lecturers in Technical and Vocational Education and Training was developed to support providers when implementing the industry/workplace-based WIL component of the TVET lecturer qualifications. It is available here.