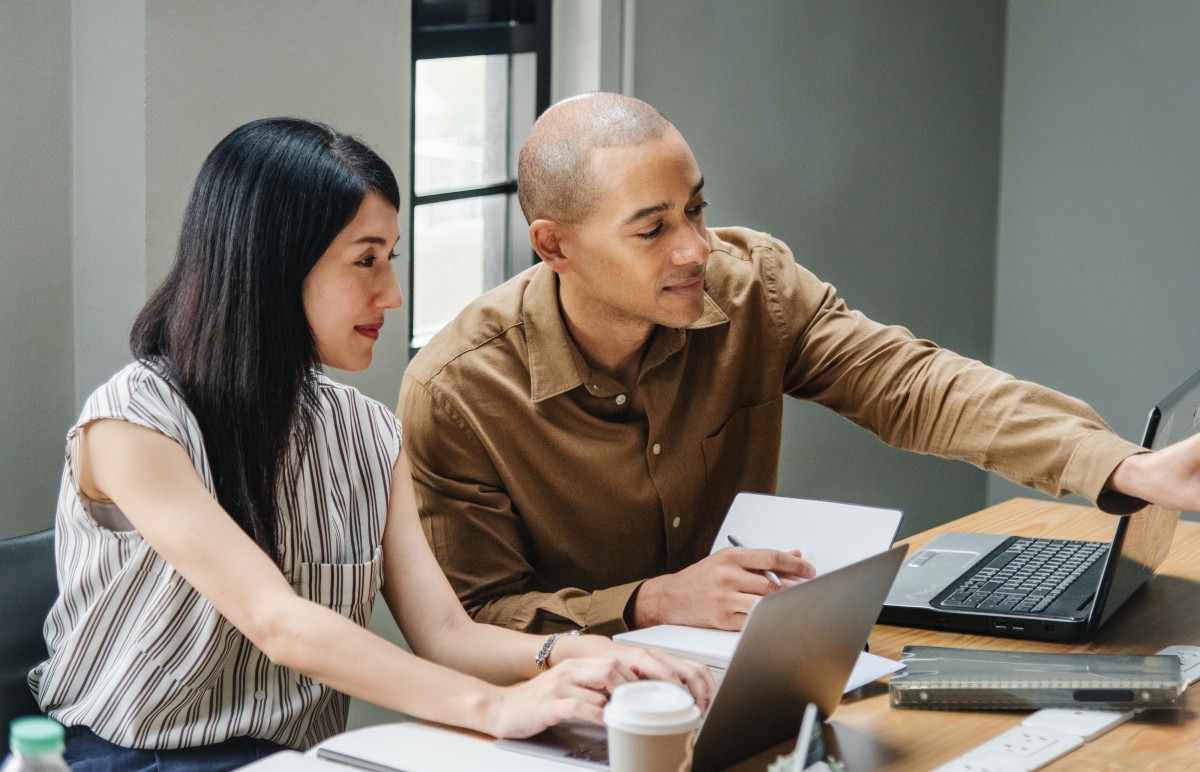 Are you familiar with open learning as an approach to education? Are open learning and open pedagogy the same thing? What does open pedagogy look like in practice?
Open Learning
In a report prepared by Saide (2000) for the South African Department of Education, the authors dispel certain misconceptions about open learning that have developed over time.
Firstly, open learning is not the same as distance education. The idea of open distance learning creates a false expectation that all distance learning is open. There are many instances of distance learning that do not provide open access or lead to success. In addition, face-to-face learning can be open. Open learning is an approach that has the potential to promote openness within a whole educational system.
Secondly, open learning is relevant to all fields of education, not just adult education.
And finally, open learning goes beyond opening learning through isolated, individual educational projects.
'The principles of open learning provide a set of benchmarks against which all aspects of any educational system (international, national, provincial, or institutional) can be measured. This process can lead to improvements in the underlying design of such system, because it can remove unnecessary closure and consolidate closure where it is important to the efficient and financially viable functioning of the system.' (Saide, 2000) 
In this report, Saide (2000) suggests that,
'open learning [is] an approach to education which seeks to remove all unnecessary barriers to learning, while aiming to provide learners with a reasonable chance of success in an education and training system centred on their specific needs and located in multiple arenas of learning.'
Open Pedagogy
There has been much debate about the link between open pedagogy, open educational resources (OER), OER-Enabled Pedagogy (Wiley & Hilton, 2018) and open educational practice (OEP). 
In an article published in the International Journal of Open Educational Resources (IJOER), 'Towards a Working Definition of Open Pedagogy,' Witt (2020) proposes a working definition of open pedagogy as  'any pedagogy informed by the practitioners' conscious identification with the open movement, open access, and open educational resources.' He suggests that OER-enabled pedagogy and open educational practices address the how, [and] open pedagogy addresses the why.
In this spirit we want to share our conception of open pedagogy as part of an open learning approach. We are interested not only in what open pedagogy means, but also in the why and the how. We use a set of open learning principles to help us understand why open pedagogy is necessary, but also what it means in practice.
Open Learning Principles
Over time, Saide (2019) has developed and adapted a set of open learning principles and categorised them as follows:
1. Increasing access for success 
Learners have meaningful and affordable access to opportunities for lifelong learning.
Unnecessary barriers to access are removed.
Wherever appropriate, learning provision is flexible, allowing learners to increasingly determine where, when, what and how they learn, as well as the pace at which they will learn.
2. Enabling success
Providers create the conditions for learner success through learner support, contextually appropriate resources and sound pedagogical practices.
Learning processes centre on the learners and contexts of learning, build on their experience and encourage active engagement leading to independent and critical thinking.
3. Continuing success
Prior learning and experience is recognised wherever possible.
Arrangements for credit transfer and articulation between qualifications facilitate further learning.
The intention is for educational practitioners to apply these principles as part of an ongoing process of evaluation and improvement, to develop meaningful educational opportunities, regardless of the 'mode of delivery' used.
Open pedagogy is not just about open content
Wiley (2013) spoke about open pedagogy as "that set of teaching and learning practices only possible in the context of the free access and 4R permissions characteristic of open educational resources" (Wiley, 2013, final paragraph). Conole (2010) defined open educational practices as "a set of activities and support around the creation, use and re-purposing of Open Educational Resources (OERs)". So open pedagogy (and open educational practices) assumes access to content and resources in the form of OER.
For us, access can mean many things. Hegarty (2015) associated open pedagogy with attributes such as participatory technologies; people, openness, trust; innovation & creativity; sharing ideas & resources, connected community; learner generated; reflective practice; and peer review. So, we need to think about access to technology, or access to data, for example. Particularly in this time of Covid, when most students are online (if they have access to data and technology) and remote we also think of access to people — each other and their lecturers.
What about access to the learning process? Think about university students you know of who struggle with reading, either because most, if not all, of the reading is in academic English and they do not have the experience of reading those kinds of texts. Or the student who has an educational background that has not prepared them well for post-school study. You may be thinking about a student who has work experience, but not in their direct field of study. For these students, access is about language, level, and what students already know. 
In our view, open pedagogy asks the question: how do we provide learning opportunities for students in ways that remove barriers to access, and scaffold and mediate learning in ways that support students to succeed?
Understanding open pedagogy
At the heart of our understanding open pedagogy is understanding how people learn. One of the open learning principles for enabling success is that,
'learning processes centre on the learners and contexts of learning, build on their experience and encourage active engagement leading to independent and critical thinking' (Saide, 2019).'
We have developed a set of requirements for giving practical expression to this principle.
People learn by doing things that lead them to construct their own new knowledge. Reading, creating a mind map, doing an interview, planning a learning session, creating a model, doing an experiment, or teaching a class are all examples of being actively engaged in the learning process. If an action is facilitated or mediated in some way, students begin to understand and reflect on their action, and in that way start to internalise what they have learned.
Telling or transmitting information results in limited learning. For deeper learning to occur, people need to engage in a meaningful activity and then reflect on what they have done to learn something from it. This is an active rather than a passive conception of how we gain new knowledge.
Learning is structured around key activities that build up into identified learning pathways. There are structural links between programmes, modules, units and activities.
An important concept in open pedagogy is the idea of three presences: social presence, teacher presence and cognitive presence.
The most important thing you can do to make online learning accessible, meaningful and successful is to engage students in supportive and collaborative active learning. Create a presence. Create a set of learning activities that engages students in meaningful thought (cognitive presence), discussion with other students (social presence) with you as a critical and compassionate guide (teacher presence). Saide (2020)
Let's explore the following activity template to unpack open pedagogy a bit more. Scroll down in the block to use the interactive template.
Open pedagogy and open learning principles
Stop and think
Which of the open learning principles are supported by our concept of an open pedagogy?
Our concept of open pedagogy supports student access to active learning, supporting them to reflect, think critically and solve problems. In open pedagogy, the materials "become a mediator" (Moll & Drew 2008), facilitating a conversation between and amongst the students and the teacher and supporting progress through the identified learning pathways. Open pedagogy supports students to succeed and equips them for critical lifelong learning.
Are you open?
Additional Resources
For further ideas about activity based learning, access the following online module: Designing Engaging Learning Activities
Conole, G. (2010). Defining open educational practices (OEP) [Blog post]. http://e4innovation.com/?p=373
Hegarty, B. (2015). Attributes of open pedagogy: A model for using open educational resources. Educational Technology, 3-13. https://upload.wikimedia.org/wikipedia/commons/c/ca/
Laurillard, D. nd. Learning Design
Mhlanga, E. 2009. Enriching online learning experience: the three 'presences', Saide.
Moll, I & Drew, S. 2008. Learning, a learning spiral and Materials Design, SAIDE, WIP.
OER Africa. 2020. Online assessment: How do we know if students are learning successfully?
Saide. 2000. Open Learning in South African General and Further Education and Training: Report Prepared for the South African Department of Education, May 2000.
Saide, 2003. What is a Learning-centred Learning Centre? p26.
Saide, 2019. Open learning principles Enabling successful learning
Saide, 2020. Quality Online Teaching and Learning, an online course
Wiley, D. (2013, October 21). What is open pedagogy? Iterating toward openness [Blog post]. http://opencontent.org/blog/archives/2975
Witt, A N. 2020 Towards a Working Definition of Open Pedagogy, IJOER, https://www.ijoer.org/towards-a-working-definition-of-open-pedagogy/
What's New
The Open Access (OA) movement has gained even greater traction over the past 18 months, in an effort to make research on COVID-19 more widely available and to make research in other fields accessible to remote teachers and learners. But what is OA? Why is it increasingly important and how has COVID-19 advanced the OA cause?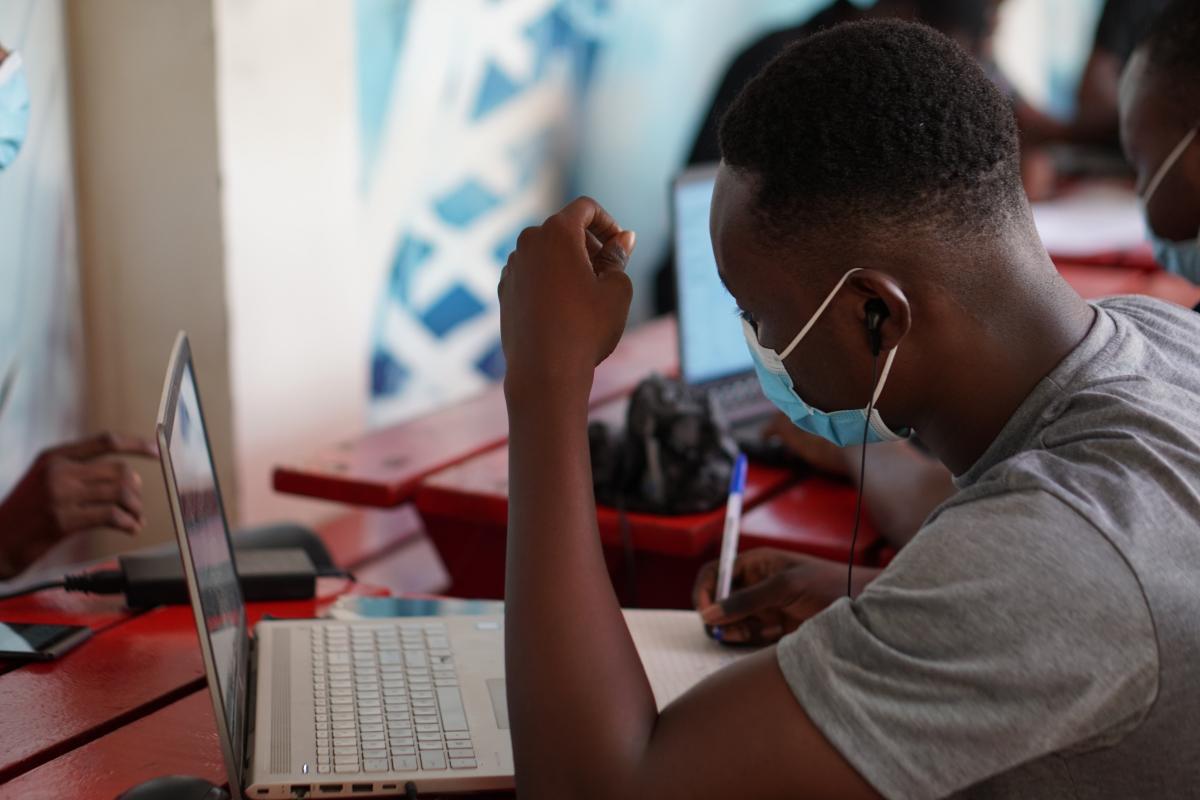 Image courtesy of Kojo Kwarteng, Unsplash
What is Open Access?
As the world continues to grapple with the uncertainties that the COVID-19 pandemic presents, the need for accessible, rigorous, unbiased knowledge has never been more urgent. However, this need stands in the wake of a barrage of misinformation, disinformation, and 'fake news'.
In spite – or perhaps because – of this, the Open Access (OA) movement has gained even greater traction over the past 18 months, in an effort to make research on COVID-19 more widely available and to make research in other fields accessible to remote teachers and learners. But what is OA? Why is it increasingly important and how has COVID-19 advanced the OA cause?
OA is a set of principles and a range of practices through which research outputs are distributed online, free of cost or other access barriers, providing users with full re-use rights.[1] OA seeks to make research and data available for anyone, anywhere in the world to read, use, and build upon the knowledge, thus making knowledge outputs more valuable to a greater number of people.[2]
Open access can be applied to any published research output, including peer-reviewed and non peer-reviewed academic journal articles, conference papers, theses, book chapters, monographs, research reports, and images. OA journals are categorized using a simple colour system.[3],[4]
Table 1         The OA publishing system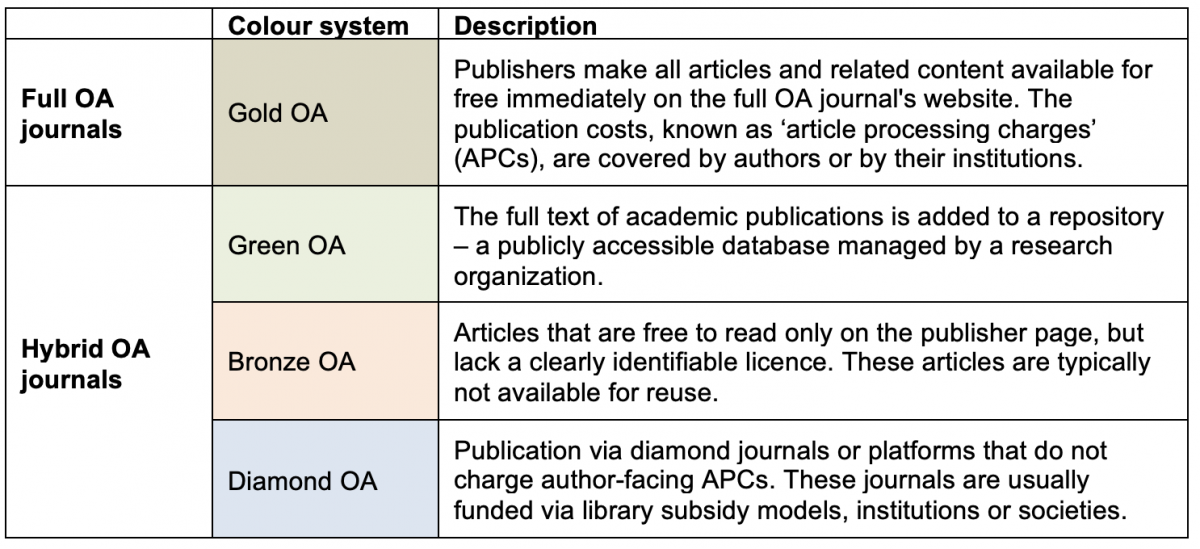 OA can, to an extent, be contrasted with 'traditional' publishing models for research outputs, with often exorbitant journal subscription fees that have consistently outpaced the consumer price index by a factor of four to five over the past three decades.[5] The high cost of journal subscription fees has meant that educational institutions, educators, researchers, and students may be locked out by paywalls and often cannot afford to access these articles, or are forced to buy them without knowing whether the content is relevant for their purposes. Moreover, publishing in scholarly peer reviewed journals usually involves long delays from submission to publication, which takes an average of nine months. This is partially due to the length of the peer review process, but can also be attributed to the prevailing tradition of publishing in issues – which has become less relevant because of the digitization of materials. This custom ultimately creates backlogs of manuscripts awaiting publication.[6]
Open Access during COVID-19
Why is OA more relevant now than ever before? The last 18 months has provided an extraordinary research context in which researchers have bypassed traditional systems to provide up-to-date research and findings about the evolving COVID-19 pandemic. As a group of United States-based patient and disease advocacy organisations recently noted, 'information critical to health should no longer be held hostage by arcane publishing'[7].
Throughout the pandemic, researchers have embraced open publishing platforms and preprint servers to disseminate their findings as rapidly as possible. The first article related to COVID-19 was published on bioRxiv on 19 January 2020 – just 20 days after the Chinese government informed the World Health Organization (WHO) of the impending COVID-19 threat. The article was licensed under a CC BY-NC-ND 4.0 International licence.[8] Some publishers have committed to publishing scientific articles relating to the disease as OA. Others are facilitating rapid open peer review and expediting the publishing of related research. The Pulitzer Prize-winning journalist Michael Hiltzig refers to this convincing demonstration of the value of OA to scientific research as one of the most important positive disruptions caused by COVID-19.[9]
At a practical level, the adoption of open practices has ignited collaboration and interaction amongst the scientific community. As Heather Joseph, the executive director of SPARC explains,
One of the things that COVID is showing us is that when scientists start openly pooling their data and articles, they start to have conversations about science in real time. Instead of waiting months for key findings to be published, scientists are sharing their findings on the sorts of channels many people use every day—such as Slack and Twitter.
This demonstrates how OA is part of the evolution of research publishing and in so doing, how it has contributed to our understanding of the disease. It is easy to see how the greater availability of information has propelled more rapid progress in various areas relating to COVID-19 – freely available scientific information has never been more necessary than in this age, where misinformation from unidentifiable or unrecognised sources muddies the waters between fact and fiction. But how has the pandemic highlighted the need for more people to consider making their research and data OA?
What about other research?
While most COVID-19 related studies were commendably made freely available to all, much of the world's publicly funded university research remains hidden behind paywalls. However, the tide seems to be turning. Publishers, research institutions, and funders are collaborating to deliver high-quality OA publications for free at the point of publication.[10]
Efforts to remove journal paywalls have also gained significant traction since 2018, when an influential group of research funders announced that the scientists they fund should publish their peer-reviewed papers outside journal paywalls. This initiative, named Plan S, created instantaneous speculation over its efforts to eliminate journal subscription models. After many deliberations over policy, the project officially began in 2021, with 25 funding agencies rolling out similar OA mandates.[11] This has catalysed a significant shift, as an article in Nature explains,
Despite the complexity it's brought, Plan S has already catalysed a shift in the OA landscape, advocates say. Journals that previously offered no route to make peer-reviewed articles immediately OA now do — even if only for authors with Plan S funders — and there's been a blossoming of experiments with OA business models.[12]
Other significant developments include the global OA advocacy initiative OA2020's efforts to implement transformative agreements in transitioning scholarly journals to OA. Transformative agreements allow users to repurpose former subscription payments to cover open publication of a country's or institution's research articles, thus eliminating author-facing article processing charges. Transformative agreements also allow one to restructure financial streams, creating enabling conditions for OA publishing and a more transparent, competitive market.[13]
In Africa, Côte d'Ivoire has launched a country-level Open Access repository, while Ethiopian university and government stakeholders have implemented OA policies for repositories, journals and infrastructures. In South Africa, institutions like University of Cape Town and University of the Witwatersrand have made similar inroads in promoting OA, with the former institution developing a continental platform for publishing OA journals, monographs and textbooks in Africa.[14] In addition, countries such as Ghana, Malawi, and Uganda, have finalized their national policies for data and repository management.[15]
These kinds of arrangements have contributed to significant progress in mainstreaming OA. Piwowar et al estimate that, as of 2019, approximately 31% of all journal articles are available as OA and 52% of article views are to OA articles. Given these trends, they project that, by 2025, 44% of all journal articles will be available as OA and 70% of article views will be to OA articles.[16] However, there is still a lot of work to be done, as noted in a recent article:
In addition to and sometimes combined with geopolitical arguments and regional skepticism, active attempts to discredit open access as "bad science" are never far from the surface, e.g. the insinuation that open access publications may not be properly peer reviewed or that the APC model inevitably leads to lots of publications with questionable merit.[17]
This drives home the point that OA requires a consistent commitment to make sustainable – and sometimes incremental – gains in realising its goals. The current COVID-19 crisis highlights the importance of unfettered access to scientific and scholarly information, for researchers, educators, students, journalists and non-academic professionals alike. But sustainable change needs to happen at both the systemic and individual levels. Ultimately, it is not a question of whether OA is better than other publishing models, but rather of how OA can enhance a more equitable publishing ecosystem and thus make knowledge and data more accessible.
For more information on how to publish OA research, OER Africa has created a learning pathway to give you practical guidance for doing so. Visit Publish Using Open Access to access this tutorial. Other learning pathways are available here.
Related articles:
Access the OER Africa communications archive
---
OER Africa has been grappling with the complexities surrounding diversity promotion. We have written this article in the hope that it contributes to an ongoing conversation – within our initiative and beyond – on diversity in the OER space.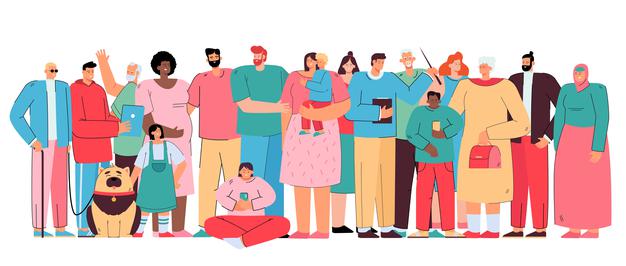 Image courtesy of PCH Vector, Freepik
At OER Africa we were encouraged to see that the UNESCO Recommendation on OER aims to facilitate international cooperation to 'develop a global pool of culturally diverse, locally relevant, gender-sensitive, accessible, educational materials in multiple languages and formats'. This is a powerful ideal, and OER Africa has been grappling with the complexities surrounding diversity promotion. We have written this article in the hope that it contributes to an ongoing conversation – within our initiative and beyond – on diversity in the OER space.
Cultural diversity refers to the practice of including people from varied socio-economic, racial, ethnic, and cultural backgrounds, as well as people of different genders and sexual orientations. This article will focus predominantly on inclusion of people from Africa and the global South.
On 21 May, we celebrated World Day for Cultural Diversity for Dialogue and Development. Despite this, African resources, as well as its people and its languages are underrepresented in global digital knowledge networks. To take one example: Wikipedia has more articles about Paris than it does about the whole of Africa.[1] In addition to a lack of African content, African narratives are often written by people outside Africa, enforcing biases in the content with which Africans engage and in how Africa is represented.
Without knowledge and narratives created by people from Africa, Africans are, from a very young age, prevented from experiencing an accurate representation of their world, in their languages, and from being able to contribute to developing such a representation. This is exacerbated by education systems that are not yet systematically (or systemically) developing the skills young Africans need to contribute to global knowledge networks. These skills include creativity and critical thinking, which could be taught effectively when covering Indigenous Knowledge Systems (IKS), unfortunately an area under-researched and under-taught in African contexts. Creativity and critical thinking allow society a broader perspective, encourage innovative solutions to solving problems and unlock the skill to generate new and useful ideas. Creativity and critical thinking are essential for building self-awareness and agency and unlocking our collaborative futures.
Open licensing offers great promise in this regard, as historically, knowledge production and cultural narratives have been controlled by a minority. More than improving access to knowledge, open licensing can shift the power dynamic and allow more diverse people to be the creators and consumers of knowledge. By improving the diversity of the knowledge that is created, we make it more representative and therefore more accurate. As Clement notes,
When we implement OER, we must continuously ask ourselves 'whose knowledge is being foregrounded and whose view of reality is being entrenched' in these materials (Adam et al. 2019)? If decolonization is not foundational to OER implementation, the OER initiative betrays its own philosophy.[2]
As COVID-19 has highlighted, compounding the issues mentioned above is the digital divide, which is widening as many communities do not have access to the Internet or cannot access vital information in their own languages, thereby being excluded from global knowledge networks or participating in them only as passive consumers. However, the influx of mobile phones for access to the Internet has enabled the proliferation of OER access in Africa and beyond. Czerniewicz, Willmers, and Hodgkinson-Williams (2020) explain that, in addition to addressing the cost and lack of access to education materials,
The democratised authorship approach entailed in many forms of OER production is conducive to collaboration and peer-to-peer knowledge production. In this sense, OER can provide a mechanism through which to challenge the Western-oriented worldviews enshrined in traditional textbooks and other teaching materials, and can be used as a tool for addressing transformation in the classroom.[3]
Similarly, Adam, Bali, Hodgkinson-Williams, and Morgan make the point that it is important to critically examine 'in whose eyes open education is deemed "valuable"; whose knowledge is being foregrounded and whose view of reality is being entrenched?'[4] It is only through this lens that we can interrogate OERs that may be grounded in coloniality, and move towards an empowering discourse of acceptance and representation. Initiatives to decolonize curricula such as de Beer (2019) [5] provide numerous ideas for making curricula and classrooms less colonial. Examples include: incorporating indigenous knowledge into the teaching of DNA, ethnobotanical knowledge and the making of soaps in science classrooms or laboratories; featuring contextualized practices in health and and agriculture; providing project-and problem-based learning environments for students; using puppets to provide different viewpoints in school classrooms; and using indigenous technologies to solve problems.
Internationally, 'Achieving the Dream', which promotes student success in community colleges in the US, shows in Using Open Educational Resources how important OER are.  It suggests that, by using OER, culturally responsive educators can adapt and localize content to suit learners' needs, translate into other languages, incorporate learner content, and ensure that it does not contain bias or stereotypes. Culturally responsive teaching comprises eight competencies, as illustrated in Figure 1. These competencies are relevant for all teaching situations. They include building on students' prior knowledge and cultural background, accepting that there are multiple 'ways of knowing' beyond Western scientific knowledge, and promoting student success rather than competition and ranking.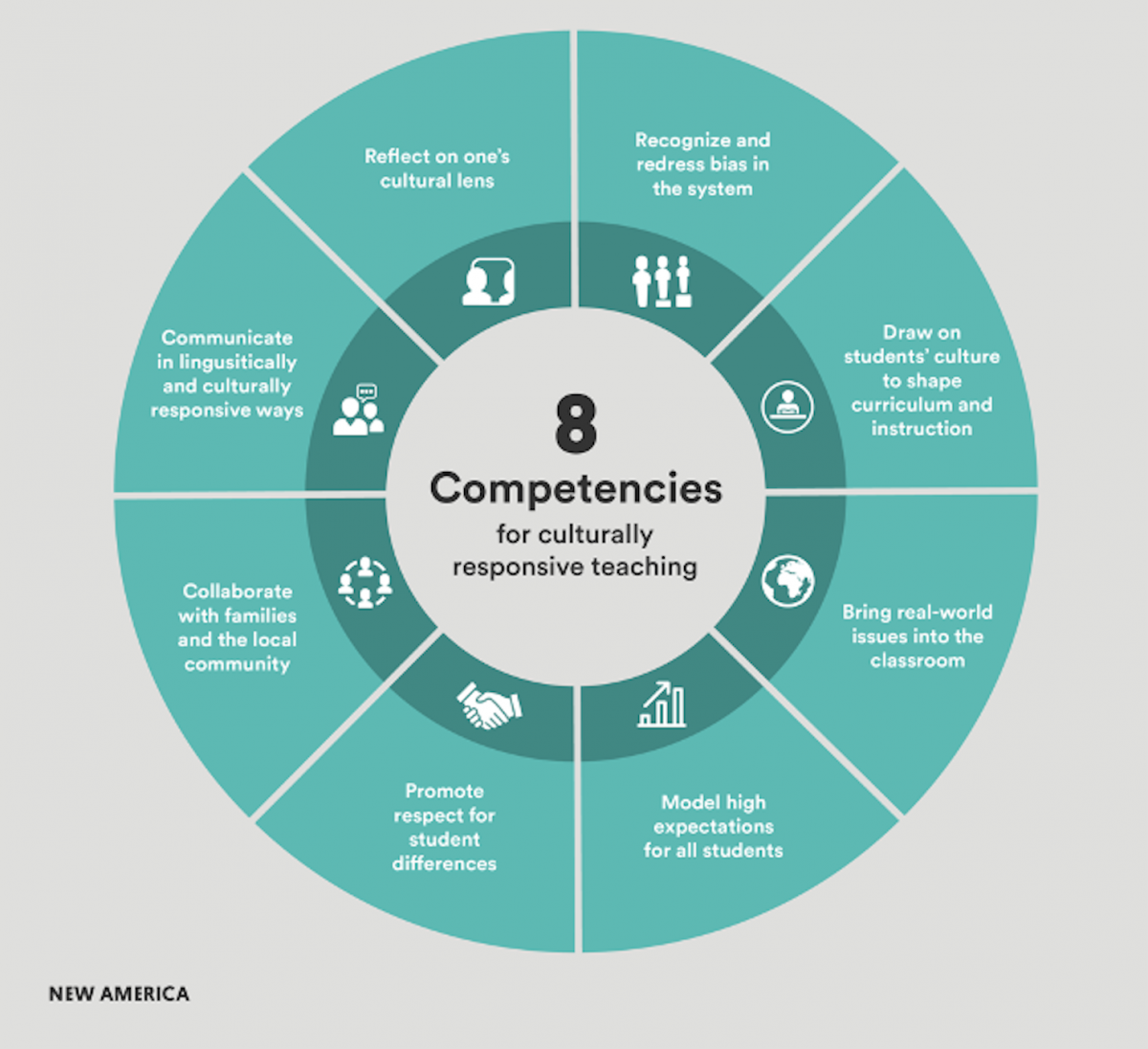 Figure 1: Competencies for Culturally Responsive Teaching
Source: Culturally Responsive Teaching CC BY
Cultural diversity in OER can be promoted through: the exploration of innovative ways of bringing together people from culturally diverse backgrounds and different parts of the world into decision-making processes regarding OER strategy and advocacy efforts; sourcing funding for people in the global South to create and share OER; and tracking progress for any initiative, or community actions towards achieving tangible cultural diversity outcomes espoused in the OER.
Below are some key resources, websites, and portals that promote cultural diversity especially African culture and Africa-created resources.
Recent developments in the OER space, together with a disproportionate focus on knowledge production from the global North, highlight an urgent need to promote the cultural diversity agenda in a meaningful way that encourages equity and welcomes voices from Africa and other regions in the global South.
The open knowledge ecosystem has seen significant growth in the last few years. This communication is about Open Science from an African perspective. It explores examples of how Open Science platforms are being constructed, together with linkages among the different forms of openness.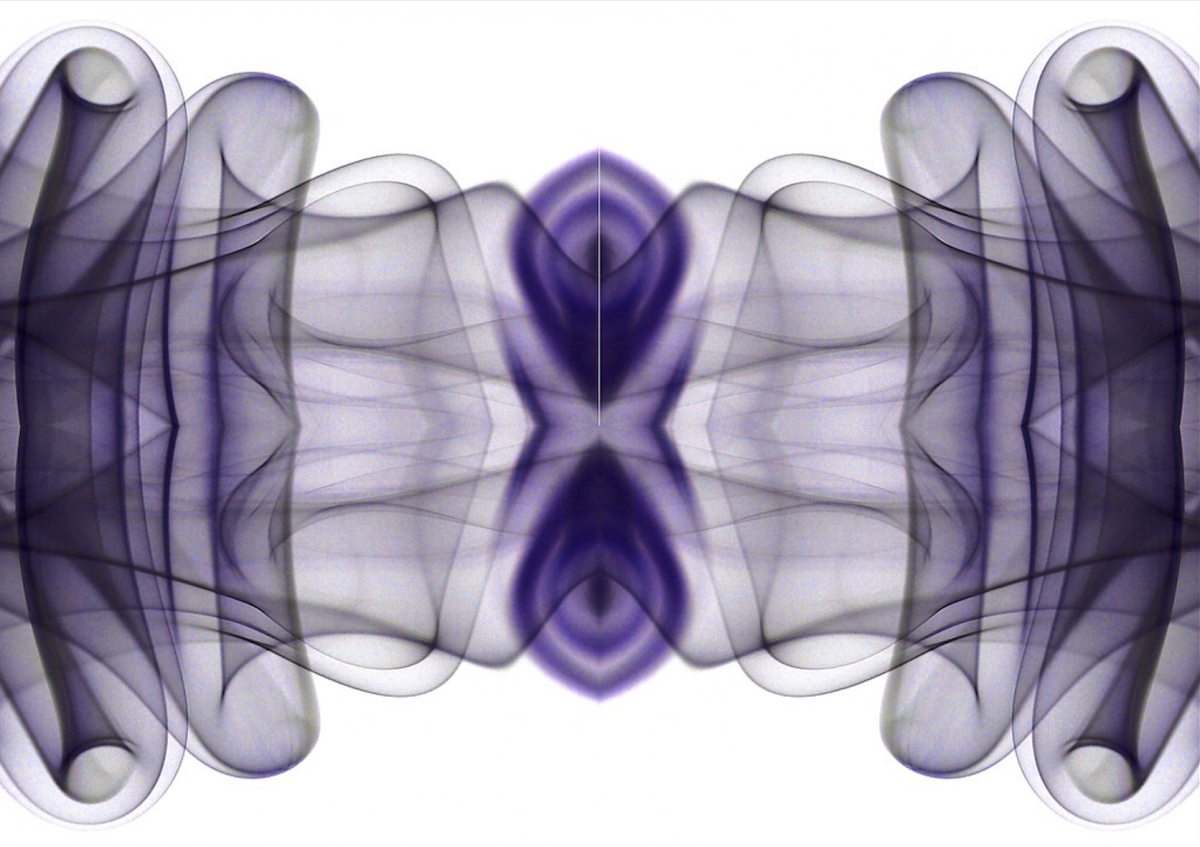 Image courtesy of Kiran Kumar, Creative Commons (CC BY 2.0)
The open knowledge ecosystem has seen significant growth in the last few years. UNESCO's November 2019 Open Educational Resource (OER) Recommendation is rightly considered a groundbreaking development in support of open education practices; OER Africa has already explored the significance of the Recommendation in July 2020, August 2020, and November 2020. 
What may be less widely known is UNESCO's role in open knowledge more broadly – Open Access, Open Data, and Open Science. UNESCO also works to link these three 'opens' with OER. In UNESCO's post on its work in support of an Open Science Recommendation, UNESCO writes about these linkages:
[The] UNESCO Recommendation on Open Science will complement the 2017 Recommendation on Science and Scientific Research. It will also build upon the UNESCO Strategy on Open Access to Scientific Information and Research and the new UNESCO Recommendation on Open Educational Resources.
OER Africa discussed Open Access publishing and Open Data in previous posts. This communication is about Open Science from an African perspective. Below you will find examples showing how Open Science platforms are being constructed, together with linkages among the different forms of openness.
Member states tasked UNESCO to develop an Open Science Recommendation at its 40th General Conference, the same one in which the OER Recommendation was approved. UNESCO began multi stakeholder consultations shortly thereafter, which will continue until September 2021.
This is UNESCO's cogent explanation of Open Science:
The idea behind Open Science is to allow scientific information, data and outputs to be more widely accessible (Open Access) and more reliably harnessed (Open Data) with the active engagement of all the stakeholders (Open to Society).
Figure 1: Concepts linked to Open Science, UNESCO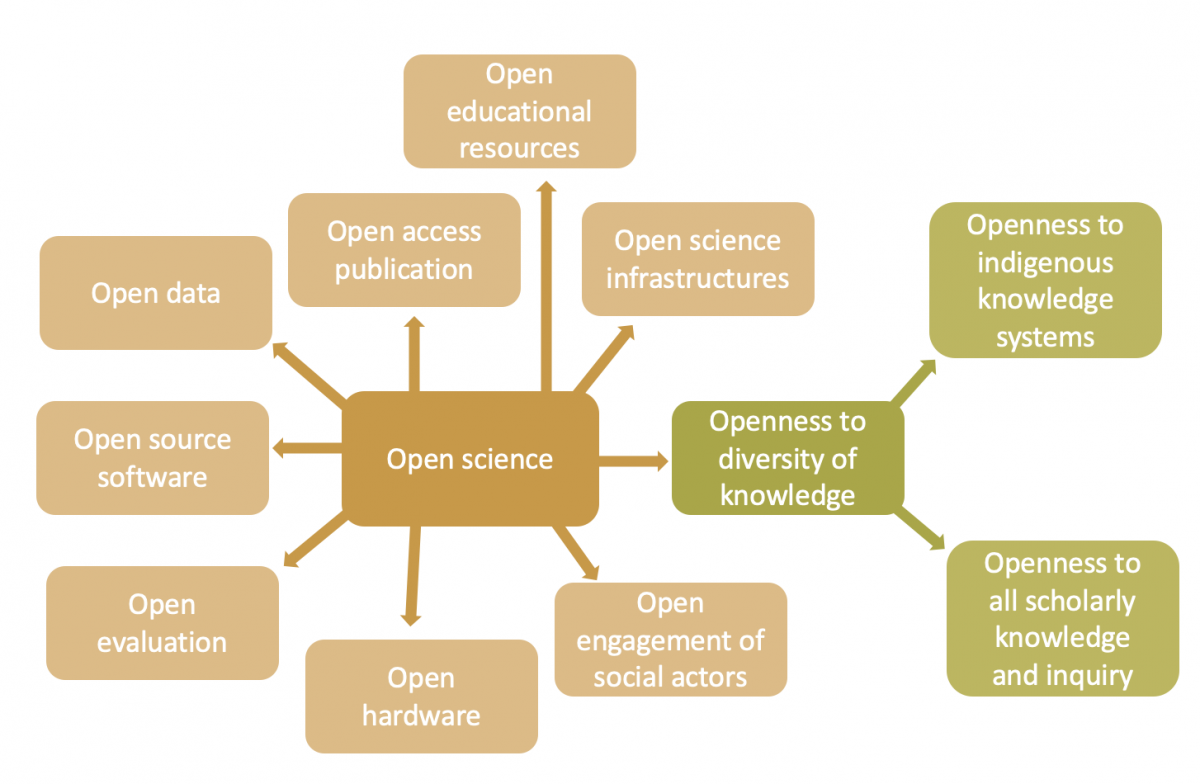 Image adapted from Robbie Ian Morrisson, Wikimedia (CC BY)
The concept of open or openness ties together all these elements. Open Access, Open Data, OER, and open-source hardware all carry licences that permit sharing and reproduction. Open Access and OER content typically use Creative Commons licences, while Open Data licences are largely based on those written by Creative Commons. 
Indigenous Knowledge Systems are a part of the Open Science concept, but they are not always easily available to researchers, development experts, or policy makers because they have not been considered part of the development of Western empirical science. In its article on Indigenous Knowledge Systems, SciDevNet explains why Indigenous knowledge is a form of scienceand should not be ignored. UNESCO's programme on Local and Indigenous Knowledge Systems is trying to bring indigenous knowledge into the open. It is important to bear in mind, however, that some communities are wary of theft of intellectual property by for-profit companies, and the World Intellectual Property Organization (WIPO) is taking a leading role in helping them articulate these fears.[1]
In 2016, a preparatory pilot for the African Open Science Platform (AOSP) began. Its priorities were to:
Map the current landscape of data/science initiatives in Africa. 
Build a Pan-African open science community and encourage the formation of national open science fora. A notable and crucial success of the pilot in this regard was development of an African community of practice and support, which included relevant government ministries, universities, and pan-African and regional organizations. African networks, such as the African Academy of Sciences, the Network of African Science Academies, the Association of African Universities, the West and Central African Research Network (WACREN), and the UbuntuNet Alliance (the research and education network for Eastern and Southern Africa).
Develop frameworks for policy, incentives, training, and technical requirements that would inform the operational platform.[2]
The final report was published in 2018. On 29 April 2020, the NRF announced that it would be responsible for hosting the African Open Science Platform project for the next three to five years.
The WACREN is responsible for coordinating African national and regional efforts to build the technical components of the Platform through its LIBSENSE initiative. LIBSENSE was established in 2016 to bring together African research and education networks and academic library communities to advance Open Science in Africa and foster the continent's participation in Open Access globally.
WACREN and others draw a clear link between Open Science and Open Access, for instance using a national Open Science platform to host Open Access repositories. In a panel session at the 2021 WACREN annual conference, held virtually this year, Owen Iyoha, Managing Director of Nigeria's Eko-Konnect made the following points about Open Science and infrastructure considerations in the figure below:
Figure 2: Open Science infrastructure for Nigeria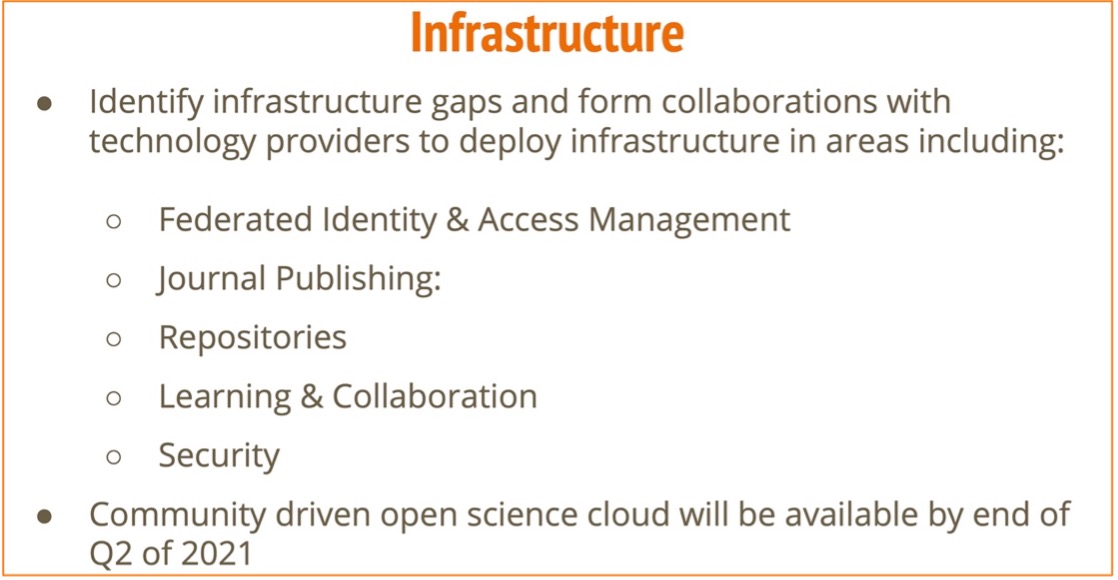 Eko-Konnect plans to include Moodle, the open-source learning platform on its Open Science cloud, which will allow the seamless integration of OERs created at multiple institutions.
OER and Open Science are based on a shared belief that access to knowledge should be freely, openly, and publicly available. In its draft Institutional Open Access Policy Template, LIBSENSE ties together open principles in its section on reward mechanisms by:
Setting up reward mechanisms for researchers using open science practices (e.g. sharing provisional results through open platforms, using open source software and other tools, participation in open collaborative projects, open access to publications and data, using open educational resources etc.).
However, specificity about where OER fits into Open Science is lacking. Where exactly might Open Science take advantage of OER principles and vice-versa? As a start, capacity building and training are integral to efforts to drive Open Science planning and implementation in Africa. If all training materials were openly licensed and made widely available, they would be relevant to a much broader audience and might be adapted to fit different needs. In addition, many African countries and institutions are planning Open Science clouds, including Eko-Konnect in Nigeria. All content related to platform-building could also be openly licensed. Finally, should Open Science clouds host or link to OER, at the very least the OER created for Open Science cloud training and capacity building? The bottom line is for WACREN and others working on Open Science to ensure that OER play an integral role in building OS communities and platforms.
Policy is another issue that would benefit from more sustained attention. There are proposed or actualized polices for Open Access, OER, Open Data, and now Open Science. Some African universities, particularly those in South Africa and East Africa, have their own Open Access policies. A few of these include the University of Cape Town in South Africa; Kenyatta University in Kenya; and Ethiopia, which has a national Open Access policy. LIBSENSE is also working on an Open Access template. Somewhat fewer African universities have distinct OER policies or broader policies that support OER; OER Africa tracks these examples. In addition, research networks such as the African Academy of Sciences have both Open Access and Open Data guidelines. Until now, however, most policy setting has been tackled in silos, with little sustained effort to build knowledge on what options work best. Are individual standalone policies desirable? Should they be integrated into other, existing tools rather than being developed independently? In addition, do university intellectual property policies require revision (where they exist)? 
Open Knowledge (OER, Open Access, Open Data, and Open Science) can greatly benefit African knowledge production, access, and utilisation by improving its discoverability and visibility. Open UCT at the University of Cape Town, for example, has usage statistics for each of the resources included in its repository. The National Academic Digital Repository of Ethiopia does the same.
OER Africa will continue to monitor developments, such as the ones we write about above, which impact on higher education on the continent. Please contact us here if there are additional issues you would like us to discuss.
---
---
For more articles in this series, click on the links below.