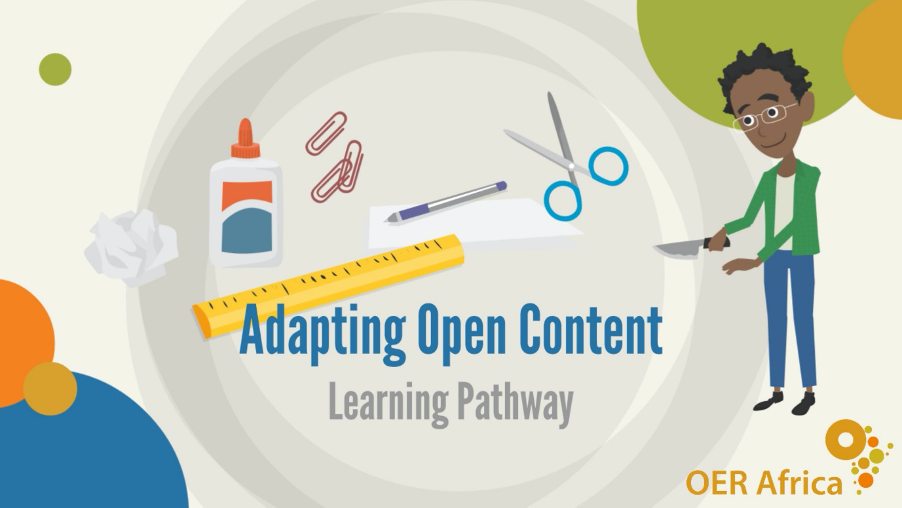 What exactly can you do with OER? In what ways are they different from other resources? The beauty of OER is that most of them can be adapted to better suit your teaching and learning environment. They can be revised: you can re-work the language to make them more accessible to students; cut out and replace images with your own; translate into different languages; and add additional content, questions and exercises.
It is also possible to 'stitch' multiple OER into a new resource, like a patchwork quilt. We call this 'remixing' resources.
However, there is some skill and know-how required to revise and re-mix well. OER Africa has prepared a concise learning pathway (LP) to help you acquire these practical skills quickly.
The Adapt Open Content learning pathway covers the following themes: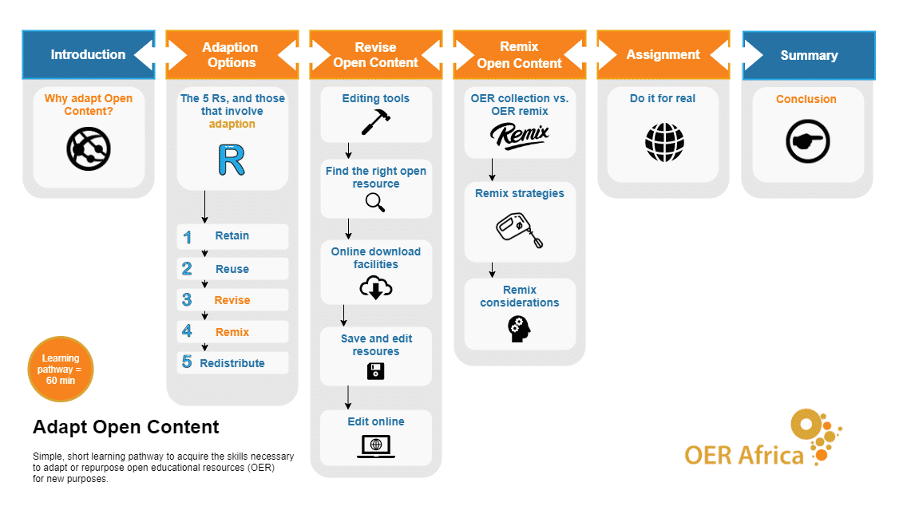 Access the learning pathway on the OER Africa website here.
This LP on Adapting Open Content follows a previous LP that focused on Finding Open Content so if you are not clear how to find a good open resource, make sure you look at that LP too. All the LPs can be accessed here.
____________________
For more articles in this series, click on the links below.
What's New
Since 2019, the United Nations Educational, Scientific, and Cultural Organization (UNESCO) has celebrated the International Day of Education on 24 January. This, year the theme is "to invest in people, prioritize education." This week, we draw parallels between the International Day of Education, the OER Recommendation, and OER capacity building.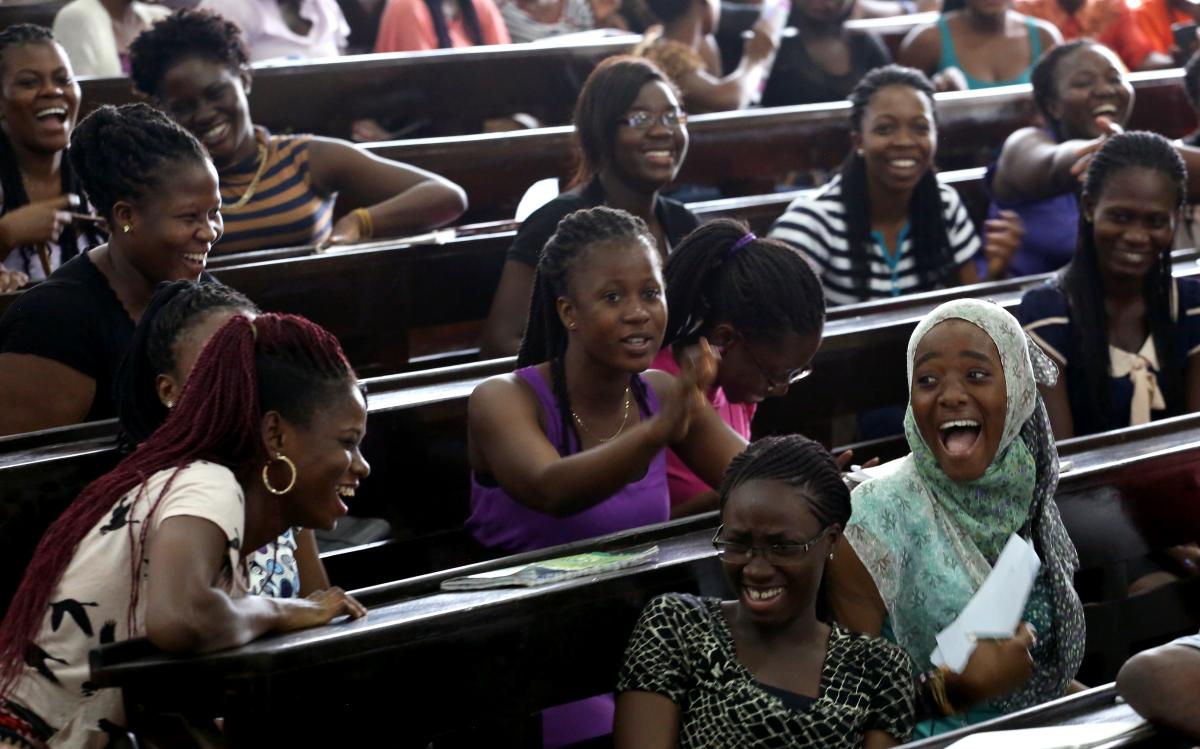 Image: World Bank Photo Collection, Openverse (CC BY-NC-ND 2.0)
The United Nations (UN) set out the Sustainable Development Goals (SDGs) in 2015. SDG 4 concerns "inclusive and equitable quality education."[1] While there have been a number of proposals[2], it is not clear the extent to which Open Education or OER are assisting with achieving the goal, so the International Day of Education may provide a focal point for associating SDG 4 with the open education movement. The UN designates specific days, weeks, years, and decades as occasions to mark particular events or topics to promote the objectives of the organization. Since 2019, the UN's educational arm (UNESCO) has celebrated the International Day of Education on 24 January. This, year the theme is "to invest in people, prioritize education."
This year's Day will call for maintaining strong political mobilization around education and chart the way to translate commitments and global initiatives into action… Education must be prioritized to accelerate progress towards all the Sustainable Development Goals against the backdrop of a global recession, growing inequalities and the climate crisis.[3]
The concept note for the International Day of Education builds on the UN Transforming Education Summit held in September 2022. It calls for strong political mobilization around education to translate commitments and global initiatives into action. The critical areas highlighted are 
Foundational learning; 
The green and digital transitions; 
Gender equality;
Education in crisis; and 
Financing.
How do these fit with OER and the UNESCO OER Recommendation that we discussed in March 2022? While the International Day of Education does not specifically link to OER, we note that the day provides an opportunity to showcase OER within each of the critical areas, or create OER where they are not available. The concept note stresses the need to capacitate policy makers, teachers and educators to make education transformative, while one of the OER Recommendation's areas of action is to build stakeholder capacity, as we highlight below. Here, we briefly examine each of the critical areas from the UN Transforming Education Summit, to show how OER and other available resources can help with operationalising the Recommendation.
To operationalise the UNESCO OER Recommendation's area of action to build capacity of stakeholders to create, access, re-use, adapt and redistribute OER, it is necessary to
Build awareness regarding the usefulness of OER.
Capacitate educators at all levels to create, re-use, adapt, and redistribute OER.
Raise awareness regarding the advantages of Open Access works.
Make OER widely accessible and findable in appropriate repositories.
Promote digital literacy skills to enable users to develop, access and adapt OER.
OER Africa, in its association with the African Library and Information Associations and Institutions (AfLIA), the Association of African Universities (AAU), and selected universities on the continent, is building capacity of their members in accordance with the OER Recommendation, so that the ideals of the International Day of Education and the Sustainable Development Goals can be realised. We would welcome hearing from any interested persons who are working along similar lines; our email address is info@saide.org.za
Related articles:
UNESCO's OER Recommendation contains an action area on accessibility, inclusion, and equity which addresses the underlying issues that are necessary to both produce and use OER. But what does effective, inclusive, and equitable access to quality OER mean and how is it being realized? Just as importantly, what are the inherent complexities?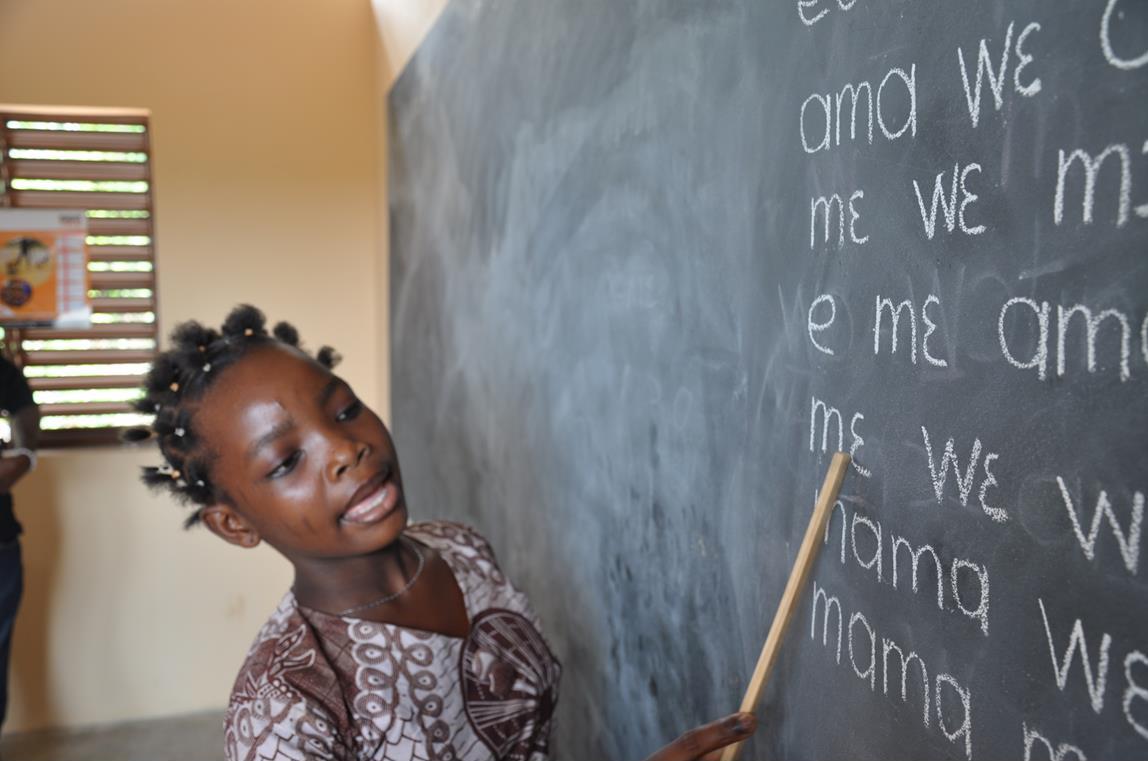 Image courtesy of USAID, Wikimedia Commons (Public domain)
UNESCO OER Recommendation
UNESCO members states unanimously approved the OER Recommendation on November 29, 2019. It is the first international normative instrument to embrace the field of openly licensed educational materials and technologies in education and builds on almost two decades of UNESCO work on OER.
The Recommendation pinpoints five essential areas of action to build and sustain a worldwide OER ecosystem:
Capacity-building;
Developing supportive policies;
Effective, inclusive, and equitable access to quality OER;
Creation of OER sustainability models; and
Use of international cooperation to foster OER.
UNESCO will publish guidelines on these five action areas in early 2023.[1] This communication is about action area three—effective, inclusive, and equitable access to OER—which touches on all five areas. We are focusing on areas one to three from the list below.
What does effective, inclusive, and equitable access to quality OER mean?
UNESCO's list is quite broad:
Ensuring online and offline technical access;
Supporting OER stakeholders to develop gender-sensitive, culturally, and linguistically relevant OER, particularly in under-resourced and endangered languages;
Ensuring that the principles and programmes are in place for gender equality, non-discrimination, accessibility, and inclusiveness;
Ensuring public and private investments in Information and Communication Technology (ICT) infrastructure and providing increased access to OER, particularly for low-income, rural, and urban communities;
Incentivizing the development of, and research on, OER; and
Developing and adapting existing evidence-based standards, benchmarks, and related criteria for OER quality assurance.
The UNESCO guidelines will discuss and analyze this and the other action areas in detail; this article provides examples of innovative ways that OER is being used in educational systems from basic to tertiary education to ensure effective, inclusive, and equitable access to quality openly licensed content.
Policies and implementation
There are some institutional and national policies on technical accessibility, which are reported on in the forthcoming UNESCO guidelines. Policies on gender, culture, and language are less entrenched. In some African countries, there are policies in place to use local languages in teaching through grade three or four.  However, a lack of sufficient content, appropriate teacher training, and public attitudes that favour English or other colonial languages, makes implementation difficult.  In Kenya, for example, the implementation of mother tongue education policy: [2]
'is likely to flop if it is not supported by careful implementation strategies that take care of teacher training, the production of teaching/learning materials and attempts to change the attitudes of parents towards indigenous languages.'
In Sierra Leone, the politics of language complicate policies in favour of learning in local languages: [3]
'People are looking at it like, if you are literate in mother tongue, what will you eat? Will it get you a job? Are you even considered literate?'
The UNESCO OER Recommendation requires governments to report to UNESCO annually on their progress in meeting the Recommendation using an accepted list of criteria. Governments will begin reporting in 2023. Progress in meeting all of the action areas in the OER Recommendation will be known as reporting continues, including this action item on accessibility, inclusion, and equity.
Online and offline technical access
According to the Recommendation, all content created for the Internet, whether it is used online or offline, must meet certain technical standards to ensure that resources can be accessed by the visually, hearing, or otherwise impaired individuals
In a 2021 briefing paper co-published by UNESCO and the United Nations Partnership on the Rights of Persons with Disabilities (UNPRPD), the organizations identified six barriers to accessible OER for people with disabilities or those who are underserved in education: [4]
Languages used in the creation of resources (particularly for English language learners) and the readability level; [5]
Images, charts, and figures which are instrumental to the text, however, do not include alternative text; [6]
Multimedia such as video, which does not include transcripts or closed caption; [7]
Lack of access to digital technology for learning; [8]
Poor assistive technology compatibility with OER; and [9]
Locating appropriate OER resources can be difficult. [10]
Figure 1: CUNY accessibility logo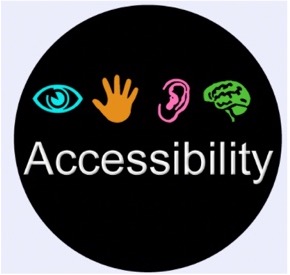 The City University of New York (CUNY) in the United States has created an OER accessibility toolkit to assist librarians, faculty, staff, and developers meet some of the challenges enumerated by UNESCO and UNPRPD. [11]  It does not address problems associated with languages, for example, or locating accessible OER resources.
The toolkit contains information on:
Creating Accessible Content: Tips on how to create accessible Word documents, PDFs, images, videos and other multimedia.
Platforms: Which OER platforms are accessible? What are the pros and cons of each one?
Evaluating your OER site: Determine if your site is accessible and see how to fix issues on your site.
Voluntary Product Accessibility Templates (VPATs): Collection of VPATs from various vendors to see relevant information on how a vendor's product or service claims to conform to IT standards for people with disabilities. (Section 508 Standards in the US Rehabilitation Act).
The University of British Columbia in Canada has published a similar open education toolkit, which is far more detailed than the one produced by CUNY.
There may be a disjuncture in how different authorities determine what is entailed in accessibility.  UNESCO includes language, gender, and culture in the OER Recommendation.  CUNY, UBC, and other universities examine the technical aspects of accessibility, but not the broader societal issues that also impact on the ability to people to use content.
Much has been written about accessibility policies and there are clearly excellent toolkits available, but it is not always easy to identify accessible OER to support diverse learners. Accessible OERs are not readily apparent on relevant hubs and in Google searches. This appears to be an unmet need for anyone who wants to adapt existing content that is already accessible.  In an interview with University World News, Kesah Princely, a blind PhD student in conflict resolution at the University of Buea in Cameroon, outlined some of the accessibility problems he and other students face: [12]
'The challenges are quite enormous. The library is inaccessible to blind students because there are no books in Braille, nor are there audio recorded materials. Infrastructure-wise, it is also not accessible to people in wheelchairs. Some of these students with disabilities are not even aware of the school library, just because things are not well explained to them.
Also, the curriculum is not well designed to suit learners with different abilities. It becomes very difficult for us with visual impairment to comprehend some key courses, especially those which have to do with images. Photojournalism is an example. In other areas, like mathematics and diagrams, the lecturers lack the requisite skills to explain the concepts to learners with visual impairment.'
Gender, cultural, and linguistically sensitive OER
Below are some instances on how gender, culture, and language intersect with content and its use. Not all the examples are openly licensed, but they provide ways to ensure that inclusion is an essential consideration. There is nothing to stop you, the reader, from modelling your efforts on the ideas given in these examples and using an open licence.
Gender
Use of the Internet and other technologies are now essential, for education and much else. UNICEF reports the disparities between the sexes both as users and designers of technology:
'There is a gender digital divide: girls are disadvantaged when it comes to digital adoption, have lower levels of access to and use of digital technology than boys, and often they are not benefitting from digital technology in the same way as boys.'[13]
The UNICEF office for East Asia and the Pacific therefore produced a toolkit of best practices, to support innovators, designers, and implementers of digital products and services, to benefit girls and young women equally and help close the gender digital divide.
Figure 2: Blowing bubbles and writing code at Girls Code Africa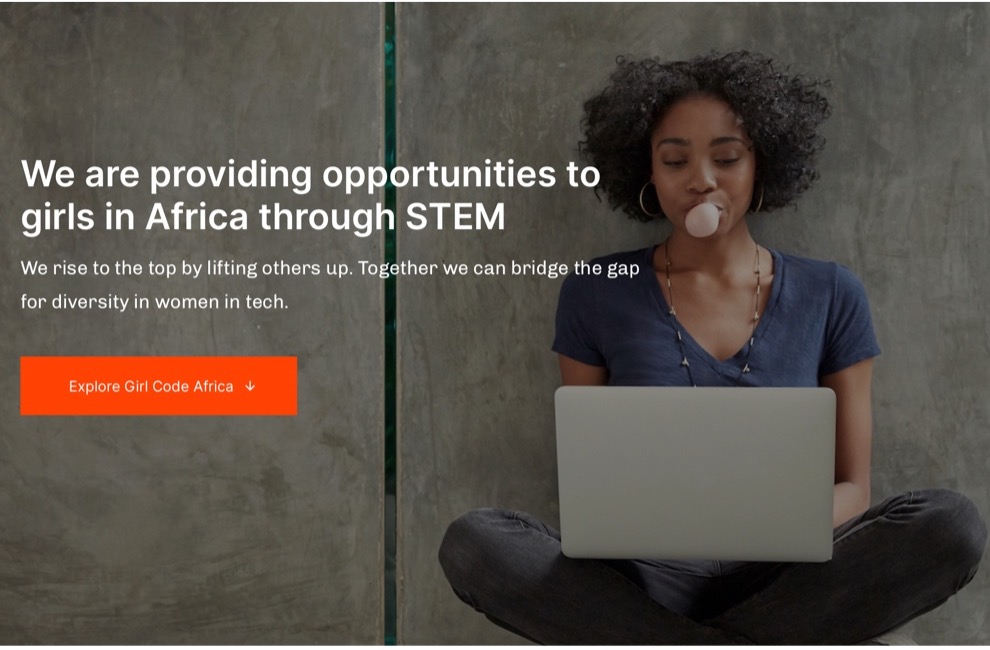 The Women of Uganda Network (WOUGNET) puts ideas about gender-based best practices and training to work. WOUGNET, which partners with many different international organizations, including UN Women, has a mission of promoting the use of ICTs by women and girls for gender equality and sustainable development. There are also many programmes to teach African females of different ages how to code, such as the African Girls Can Code Initiative and Girl Code Africa.
Programs carried out by WOUGNET and the ones to teach girls coding, empower females with the kinds of skills they require in their work and studies.  WOUGNET focuses on adult women in training, technical support, networking, and advocacy to empower women.  Its workshop on digital security training, for example, showed how social media platforms can be misused to the detriment of women's safety [14]. Coding is important for a number of reasons.  According to the British organization, Funtech, girls who learn to code improve in math, writing, and creativity.  Coding also offers girls admission into a variety of tech careers. [15]
Openly licensed digital story platforms, such as African Storybook and StoryWeaver, have numerous stories promoting the roles of girls and women. StoryWeaver has a special section for middle readers on challenging gender stereotypes, which includes a boy who is mocked because he wants to dance and a girl who lifts weights.
Culture and language
In 2019 UNESCO celebrated a Year of Indigenous Languages and marked this effort by releasing the Los Pinos Declaration in 2020. In this document and elsewhere, UNESCO integrates culture and language with several key principles including:
'Centrality of indigenous peoples – 'Nothing for us without us', according to the principle of self-determination; the right to use, develop, revitalize, and transmit languages orally and in written forms to future generations which reflect the insights and values of indigenous peoples, their identities and traditional knowledge systems and cultures; the equal treatment of indigenous languages with respect to other languages; and the effective and inclusive participation of indigenous peoples in consultation, planning and implementation of processes based on their free, prior and informed consent right from the start of any development initiative as well as the recognition of the specific barriers and challenges faced by indigenous women, whose identity, cultural traditions and forms of social organization enhance and strengthen the communities in which they live.' [16]
Initiatives that focus on the use of mother-tongue languages sometimes also incorporate gender into their efforts. In 2016, the UNESCO Institute for Lifelong Learning reported on one such instance on maternal health, literacy, and language. In Bolivia, the Ministry of Education, Culture and Sport worked in partnership with the United Nations Population Fund to implement a bilingual literacy project in reproductive health. The project was instituted in response to high levels of illiteracy and high maternal and infant mortality rates among poor people, particularly those from indigenous populations. It employed a gender-based approach and primarily targeted women. Learning was conducted in both indigenous languages and in Spanish. This bilingual approach is vital because it helps learners to comprehend the issues covered, while drawing on the learners' experiences and cultural sensitivities. This initiative was then implemented in Paraguay, Mexico, Peru, Chile, Argentina, and Guatemala, with coordination and support from the Economic Commission for Latin America and the Caribbean (CEPAL/ ECLAC). [17]
In Canada, in response to the COVID-19 pandemic, Indigenous Services Canada works collaboratively with partners to improve access to high quality services for First Nations, Inuit, and Métis. Resources on the platform have been created by the Public Health Agency of Canada, Indigenous Services Canada, and various Indigenous organizations, with a vision to support and empower indigenous peoples to independently deliver services and tackle the socio-economic conditions in their communities. COVID-19 awareness resources are available in English, French, and languages spoken by the indigenous peoples of Canada. [18]
Turning to the youngest learners and nascent readers, Dorcas Wepukhulu of African Storybook explained the importance of using local languages and familiar images as follows:
'For children's literacy material to be equitable and inclusive, it must be appropriate for the child's context and age, with images that make sense to the child and support the meaning of the written text, it must also be available, accessible and affordable. With technology and open licensing, ASb aims to get storybooks to every child learning to read, in a language that is familiar to them; with content that speaks to their interests, and experience.' [19]
Interconnections and complexity
The UNESCO OER Recommendation is about creation and utilization of openly-licensed content.  This action area on accessibility, inclusion, and equity addresses the underlying issues that are necessary to both produce and use OER.  Governmental policies and implementation are critical to the success of the Recommendation if it is to have benefit. Some areas are technical, but others impact on cultural assumptions, towards language, for instance, or girls' education.  The complexity of action item three is therefore notable.
---
References
[1] Guideline authors include OER experts in the action areas covered by the UNESCO OER Recommendation and listed in alphabetical order: Tel Amiel, Javiera Atenas, Melinda dela Peña Bandalaria, Neil Butcher, Lisbeth Levey, Ahmed Tlili, and Zeynep Varoglu
[2] MANDILLAH, Lucy. Kenyan curriculum reforms and mother tongue education: Issues, challenges and implementation strategies. Educ. as change [online]. 2019, vol.23, n.1 [cited  2022-11-18], pp.1-18. Available from: <http://www.scielo.org.za/scielo.php?script=sci_arttext&pid=S1947-9417201.... ISSN 1947-9417.  http://dx.doi.org/10.25159/1947-9417/3379. 
[3] "Mother tongue won't help you eat": Language politics in Sierra Leone. https://www.researchgate.net/publication/345815874
[4] https://unesdoc.unesco.org/ark:/48223/pf0000380471
[5] Rets, I., Coughlan, T., Stickler, U., & Astruc, L. (2020). Accessibility of Open Educational Resources: how well are they suited for English learners? Open Learning, 1-20. https://doi.org/10.1080/02680513.2020.1769585 (This journal requires a subscription to access articles or a fee of $47 for purchase.)
[6] Coolidge, A., Doner, S., Robertson, T., & Gray, J. (2018). BCcampus open education: Accessibility toolkit (2nd ed.). https://opentextbc.ca/accessibilitytoolkit/
[7] Ibid.
[8] UNICEF. (2021). Responding to COVID-19: UNICEF annual report 2020. https://www.unicef.org/media/100946/file/ UNICEF Annual Report 2020.pdf
[9] Zhang, X., Tlili, A., Nascimbeni, F., Burgos, D., Huang, R., Ting-Wen Chang, Jemni, M., & Mohamed, K. K. (2020). Accessibility within open educational resources and practices for disabled learners: A systematic literature review. Smart Learning Environments, 7(1), 1-19. https://doi.org/10.1186/s40561-019-0113-2
[10] Anderston, T., Doney, J., Hendrix, B., Martinez, J., Stoddart, R., & Wright, M. (2019). The five laws of OER: Observations from Ranganathan. Journal of Librarianship and Scholarly Communication, 7(1), https://www.iastatedigitalpress.com/jlsc/article/id/12846/
[11] CUNY OER accessibility toolkit, last updated 2021. https://guides.cuny.edu/accessibility/home
[12] Njie, Paul. (2022). All students must learn about inclusive education – Activist. University World News. https://www.universityworldnews.com/post.php?story=202211161601561
[13] https://www.unicef.org/eap/innovation-and-technology-gender-equality
[14] https://wougnet.org/website/news/newsingle/70
[15] https://funtech.co.uk/latest/why-should-girls-learn-to-code
[16] https://en.unesco.org/sites/default/files/los_pinos_declaration_170720_en.pdf
[17] https://uil.unesco.org/case-study/effective-practices-database-litbase-0/bilingual-literacy-and-reproductive-health-bolivia
[18] https://www.sac-isc.gc.ca/eng/1586548069915/1586548087539
[19] https://www.earlyliteracynetwork.org/blog/how-do-we-ensure-quality-equitable-and-inclusive-education-all-early-literacy-qa-part-3-3
The Association of African Universities (AAU), in collaboration with Saide, invite all suitably qualified persons to respond to this call for the pilot course entitled: 'Continuous Professional Development course for University Leaders.'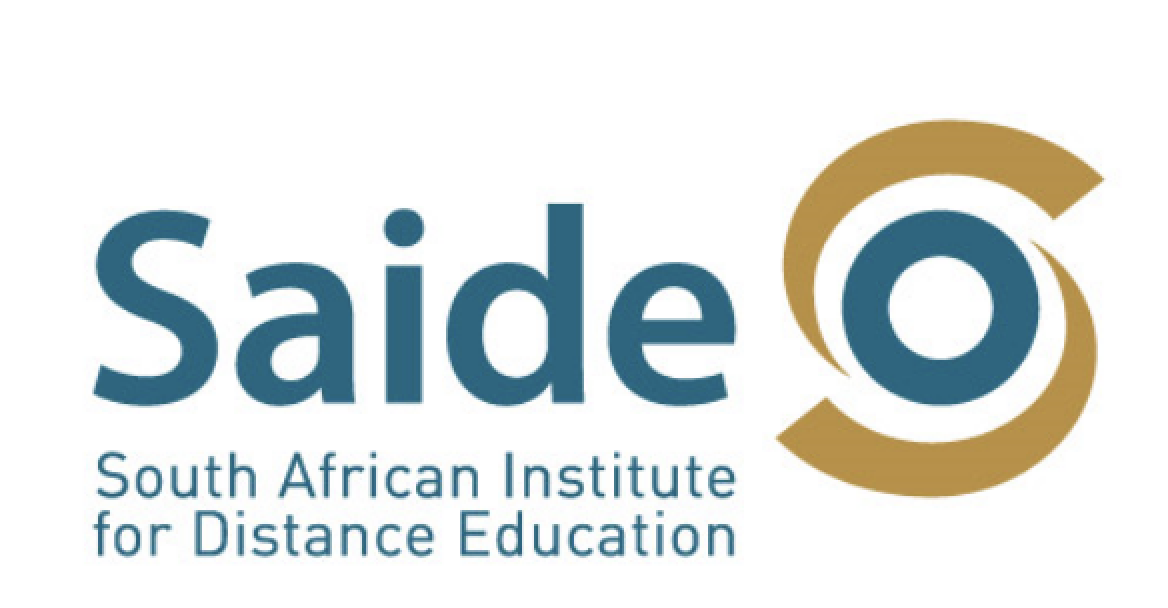 Background
The Association of African Universities (AAU) whose headquarters is in Accra, Ghana (www.aau.org and www.blog.aau.org) invites all suitably qualified persons to respond to this call for the pilot course entitled: Continuous Professional Development course for University Leaders. The course will be presented in collaboration with Saide. The AAU is the Apex Body and Voice of Higher Education in Africa, the implementing arm of the African Union on Higher and Tertiary Education matters as well as the Coordinator for the African Union Commission's Continental Education Strategy for Africa (CESA 2015-2025) Cluster on Higher Education. The AAU works in four languages - Portuguese, Arabic, English and French. Therefore, facilitators from these linguistic backgrounds are encouraged to respond to this call. Kindly complete the online form through this link which you can copy and paste onto any browser. https://www.surveymonkey.com/r/PILOT16ONLINE9LEADERSHIP2022
Aim
The aim of this course is to enable university leaders to change and improve the Continuous Professional Development (CPD) strategy or develop one if their institution does not have such a strategy.
Course Objectives
By the end of the course participants should
i) be able to address questions related to establishing and improving CPD at an institution
ii)  be able to figure out how purposeful academic professional development can take place in their institutions, and how it can be changed and improved.
iii) have a tool that you can share and discuss with colleagues and complete, adapt and implement in your own time.
Start date
Monday 17 October 2022, 13h00 GMT
The course will be offered in English only. It will later be translated into other languages.
For more information, access the document below.